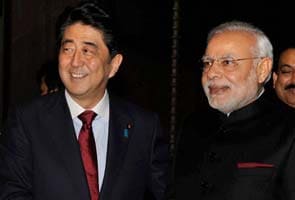 New Delhi: Observing that new opportunities have emerged for business in view of Prime Minister Narendra Modi's visit to Japan, the Confederation of Indian Industry (CII) on Wednesday urged Japanese companies to seize this opportunity and invest in India.
"The Prime Minister's visit to Japan has laid the foundation for the Special Strategic Global Partnership as envisaged by the leadership of our two countries. New opportunities have emerged for industry following the visit," said Ajay Shriram, president of industry body CII.
"It is the right time for Japanese companies to seize this opportunity and look at India as a business destination. This will support the growth of Indian economy and industry for mutual benefit," said Mr Shriram, who was a part of the CEOs' delegation visiting Japan.
He said Japanese investment into India in advanced manufacturing and high technology areas and export of value-added products from India to Japan will help in reducing trade imbalance between the two countries.
India and Japan can collaborate in the development of smart cities, integrated waste water management, agriculture and food chain development, defence production and skills development, among others.
Mr Shriram also pointed out that the CEO delegation to Japan with Mr Modi was the largest and most high profile delegation ever accompanying an Indian Prime Minister.
Indian industry leaders had an opportunity to call on Mr Modi and his Japanese counterpart Shinzo Abe in Tokyo, he said, adding that the mood and sentiment of industry from both countries was very positive and upbeat.
During the visit, Japan promised to give $35 billion to India over the next five years for developmental projects as the two sides agreed to enhance their strategic cooperation to a new level.
Mr Modi visited the 'smart city' of Kyoto, besides Tokyo, where he held talks with Mr Abe and met other leaders.
The two countries signed five pacts covering defence exchanges, cooperation in clean energy, roads and highways, healthcare and women while vowing to take their relationship to newer level.
Japan also lifted ban on six Indian entities, including Hindustan Aeronautics Ltd, which had been imposed in the aftermath of 1998 nuclear tests.