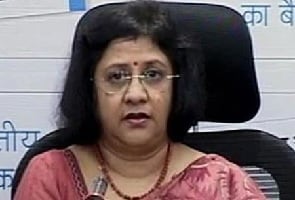 The first of its kind retreat of PSU bank chiefs, which will be attended by Prime Minister Narendra Modi, Finance Minister Arun Jaitley and RBI Governor Raghuram Rajan, bodes well for the industry, the country's largest lender SBI's chairman Arundhati Bhattacharya told NDTV.
"From the public sector itself very rarely have we had an opportunity where serving bankers have come together and speaking our minds so it bodes very well for us and going forward we will see the effects of this kind of bringing together of minds and for brainstorming and hopefully all of those will be for the good of the industry," she said.
The two-day 'Gyan Sangam' on January 2 and 3 to be held in Pune will have Mr Modi interacting with chiefs of financial institutions at the retreat, which is being organised to find out "what has gone wrong and what should be done both by banks as well as by the government to improve and consolidate the position of PSBs (public sector banks)."
At the retreat there will be sessions by prominent experts, including global consultancy firms, group discussions, sharing and demonstration of best practices and technologies.
"They are going to talk about all the issues that have been there in the media- they are going to talk about HR, they are going to talk about asset quality, risk management, various other things, consolidation, capitalization," Ms Bhattacharya said.
The consolidation of the PSU banks have been pending for long and has not made any headway despite various reports advocating merger of various small PSU banks.
There are 27 public sector banks, including five associates of State Bank of India.
The retreat will end with presentation of a draft action plan to Prime Minister Narendra Modi on the second day.
Top Finance Ministry officials will also be attending the retreat.
(With PTI inputs)