Highlights
Budget estimates 35% increase in earnings from asset sales in coming year
The divestment target is 'rather rich', say economists
It rests on a new plan to list insurance companies, they say
Prime Minister Narendra Modi's goal to shrink Asia's widest budget deficit to a decade-low rests on ambitious assumptions that will require clinical execution, economists say.
India's government on Wednesday pledged to shrink the shortfall to 3.2 percent of gross domestic product in the year starting April 1 from 3.5 percent the previous year. That's wider than the 3 percent it previously forecast and the second time Modi's administration has eased its targets to accommodate spending plans since coming to power in 2014.
"We expect the deficit targets to be achieved, although there will be little room for slippage," said William Foster, vice president in the sovereign risk group at Moody's Investors Service. That's because spending commitments are "significant" and there are "hurdles to a rapid increase in revenue collection," he said.
Growth
Before adjusting for inflation, growth is expected to quicken to 11.8 percent from a revised 10.2 percent the previous year, underpinning revenue and expenditure. However, much still remains out of Modi's control, such as the global direction for trade under U.S. President Donald Trump.
To support a domestic pick-up, the government on Wednesday announced lower income tax rates for relatively low earners and small companies, and boosted funding for a rural jobs program.
"Steps are taken in the right direction, though timely implementation is key for a swift recovery," said Radhika Rao, an economist at DBS Bank Ltd. in Singapore.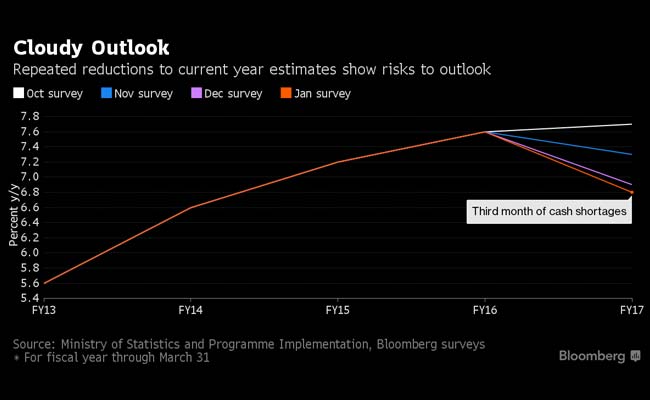 Revenue

The government's forecast for net inflows from small savings to rise 11 percent may be "optimistic," according to Mumbai-based brokerage Nirmal Bang Institutional Equities. Finance Minister Arun Jaitley has also budgeted for a 35 percent increase in earnings from asset sales in the coming year, even though the administration is still at least 100 billion rupees away from meeting the current year's 455 billion rupee target. That figure itself was slashed from an earlier projection of 565 billion rupees.

The divestment target is "rather rich" and "could be manageable" only if a new plan to list insurance companies goes through, said Pranjul Bhandari, HSBC Holdings Plc's India economist. "While the budget may have outlined some good intentions, for instance, more disinvestment compared to last year, much depends on execution over the year," she said.

Tax revenue growth of 12 percent "looks achievable," Bhandari said, as the government has budgeted for weak excise collections. A projected 25 percent jump in income taxes is premised on surging deposits triggered by Modi's cash ban last year. Since there seem to be no allocations from the latest amnesty program for tax evaders, it's uncertain how much revenue the government expects to earn from it.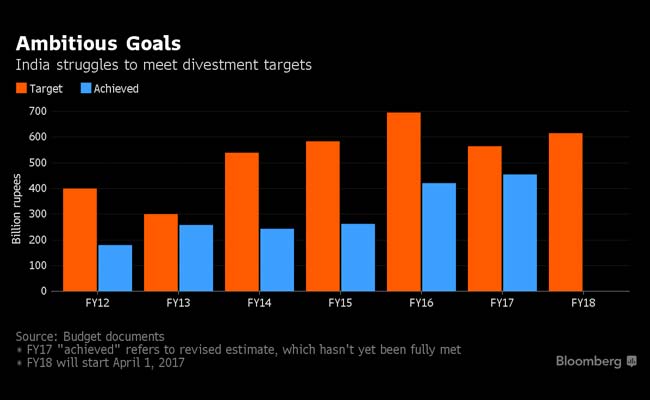 Expenditure

Expenditure targets are more uncertain than the revenue assumptions, according to India Ratings & Research Pvt., the local unit of Fitch Ratings.

Revenue expenditure -- which includes salaries and subsidies -- is budgeted to rise 8 percent after stripping out interest payments, compared with 13.5 percent. While the previous year saw higher salaries for government employees, the current year projection is still "optimistic," said Devendra Kumar Pant, chief economist at India Ratings.

The estimates don't include allowances for housing, which are due for an increase, and subsidies could rise if global oil costs advance, according to Kotak Institutional Equities.


Spending on productive assets such as roads and ports is budgeted to rise 10.7 percent. This rests on better tax compliance and revenues, analysts at HDFC Securities, led by Dipen Sheth, wrote in a Feb. 2 report.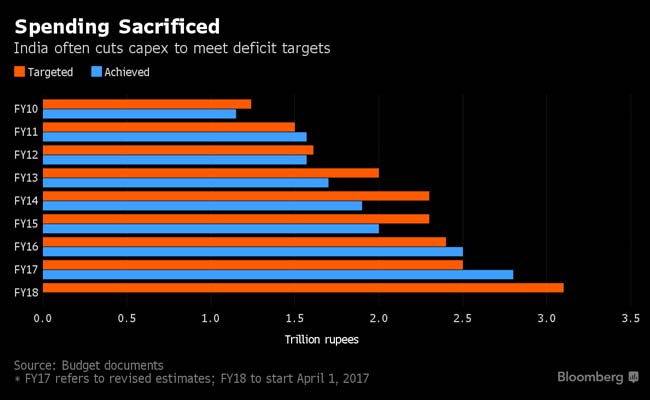 "While the intent to widen the tax net is commendable, the results may not be easily forthcoming as soon as aspired," they wrote. "We see moderate risk to direct tax collections, and hence, to fiscal discipline or capital expenditure as the year progresses."
(Except for the headline, this story has not been edited by NDTV staff and is published from a syndicated feed.)