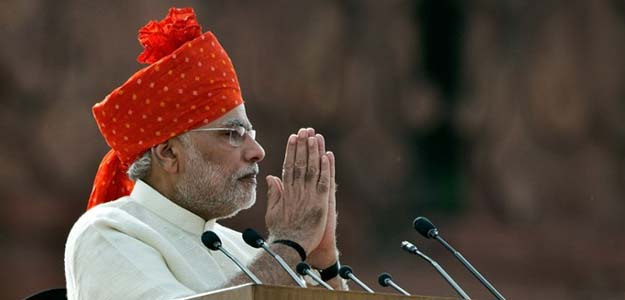 Prime Minister Narendra Modi will unveil his "Make in India" campaign on Thursday, with an aim to turn the country into a global manufacturing hub. The sales pitch for the ambitious plan will likely be made to the world's top 3,000 companies and who's who of India Inc. are likely to be present at the occasion.
The new government's push for manufacturing could not have come at a better time. India needs to grow faster to increase per capita income and create jobs for over 10 million people, who join the workforce every year. To create jobs, the country needs to move away from the services-driven growth model to labour-intensive manufacturing-driven growth. (Also read: Moody's Analytics' Thumbs Up to 'Make in India' Push)

Analysts say reviving the manufacturing sector is a good bet because despite stagnant growth for the past many years, it accounts for a large chunk of jobs. Contrast that to farming, which employs nearly 50 per cent of population, but contributes just 14 per cent to GDP. The services sector contributes nearly 60 per cent to the economy, but employs just around 27 per cent of workforce.
By focusing on export-oriented manufacturing, heavy infrastructure building and urbanization, PM Modi aims to emulate China and East Asian economic model, paving the way for sustained rapid economic expansion, Deutsche Bank economists say.
"If India succeeds, it would prove to be a major turning point in the lives of 1.2 billion people and would have very significant ramifications for the world economy," the economists added.
To accomplish its goal of 10 per cent manufacturing growth per year, the government will have to move quickly to address some long-entrenched issues. They are,
1) Ease of doing business: According to World Bank, India ranks 134 out of 189 countries in terms of the ease of doing business. China ranked 96. India performs especially poorly in categories that involve interface with the government (paying taxes, construction permits, etc.). PM Modi must enforce his "minimum government, maximum governance" mantra, so that India climbs up the ladder fairly quickly, Deutsche Bank says.
2) Investments: Foreign companies will set up factories only if India has world-class infrastructure. For this, huge investments are required. These can be funded through; i) Domestic savings have come down from a peak of 37 per cent to 30 per cent of GDP. This can go up if real interest rates go up. ii) foreign capital: Over the past decade, gross FDI inflows into India have averaged less than 2 per cent of GDP. Deutsche Bank says the Modi regime recognises the importance of foreign direct investment in capital formation and initial steps have been taken to attract foreign money including liberalising the defense manufacturing and insurance sectors. In all, India's gross investment rate will have to go up from 31 per cent of GDP in 2013-14 to 38-40 per cent of GDP, the investment bank adds.
3) Infrastructure: Transportation infrastructure is inadequate to meet even current needs, leading to time delays and high transaction costs, making Indian manufacturing severely uncompetitive, Deutsche Bank says. The new government needs to build more roads and increase railways' capacity. A new goods and service tax (GST) is also urgently needed. "The combination of improved transport connectivity and simplified, one point collection of taxation will go a long way in implementing the Prime Minister's vision of 'Made in India'," Deutsche Bank says.
4) Urbanization: For large-scale manufacturing, millions of workers need to be absorbed into the urban landscape. However, two-thirds of India's population still lives in villages. In contrast, China is now an urban majority country. Deutsche Bank says Prime Minister Modi's vision is very enthusiastic about urban growth and the Finance Minister's budget speech reiterated the idea of building a hundred "smart cities".
5) Labour law reform: India has a plethora of outdated labour laws, some dating from the 1940s, that discourage hiring, Deutsche Bank says. Labour reforms are considered to be politically sensitive, but things may change now. Already in Rajasthan, a BJP-ruled state, the state government has amended some labour rules, which makes it easier to retrench workers. The idea appears to be that Rajasthan's example can then be used to change laws in other states as well as those at the central level, Deutsche Bank says.