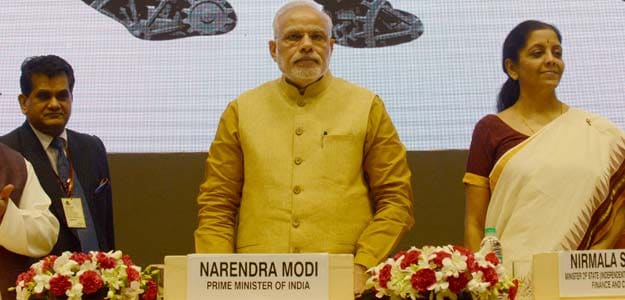 Prime Minister Narendra on Thursday said the "Make in India" campaign is the step of a lion and is aimed the make the country the most attractive investment destination in the world. PM Modi did not lay out a concrete plan on ways to attract much-needed foreign capital, but he promised easy and effective governance, faster decision making, rule of law and better policy environment for global and domestic corporates.
Here are 10 key takeaways from PM Modi's speech:
1) FDI gets a new lingo: For the world foreign direct investment (FDI) is an opportunity, but FDI is also a responsibility for the people of India, the prime minister said. My definition of FDI for the people of India is "First Develop India", he said. We have to create opportunities of employment, he added.
2) Do not treat India as a market: PM Modi said global businesses have always viewed India as a big market, but Indians lack purchasing power. Investors will lose an opportunity, if they continue to look at India as a market, he said. The Prime Minister said the faster people move out of poverty, the faster India's purchasing power will grow.
3) Do not leave India: Trust forced Indian companies to leave the country in the last few years, PM Modi said. "A trust was broken that when a policy will be changed, when CBI will come...this is what I heard from all you," PM Modi said. We do not want any industrialist being forced to leave India, he added.
4) Government to ensure capital preservation: Investors first want security of their investment, followed by growth, while profit is the last priority, PM Modi said. The new government will ensure the preservation of capital, he said.
5) Improving the ease of doing business a priority: According to World Bank, India ranks 134 out of 189 countries in terms of the ease of doing business. PM Modi today said that his government will see that the country climbs quickly to 50th position on the list.
6) India best destination to invest in Asia: The world is looking at Asia. I do not have to waste time to invite...I need to give the address, PM Modi said. Only India has the unique combination of democracy, demographic dividend and demand, he added.
7) Easy governance, effective governance: The "Digital India" push is aimed at effective governance, PM Modi said. Industry does not come when there are too many incentive schemes. A development & growth oriented environment is need, he added.
8) Skilled manpower: India needs manpower according to requirements and if we can develop the right skills, we can achieve sustainable development, PM Modi said.
9) Look East, but Link West: India needs to pursue the Look East policy, but also absorb the best practices of the western world, PM Modi said.
10) Infrastructure: India needs better infrastructure for further growth, the PM said, adding there is a need for not only highways, but also i-highways (information highways). The country needs electric, water, gas and optical fibre grids, he added.