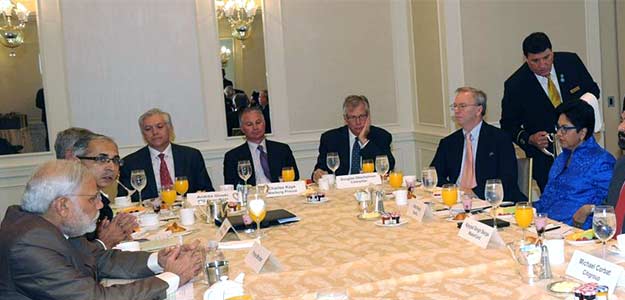 In his first engagement of the day, Prime Minister Narendra Modi is meeting CEOs of 11 top US companies over breakfast. Among those present are Google's Eric Schmidt and PepsiCo's Indira Nooyi.
Among other business leaders at the table are David M. Rubenstein of the Carlyle Group, Citigroup CEO Michael Corbat, Doug Oberhelman of Caterpillar Inc, Michael Ball of US-based global pharmaceutical company Hospira Inc and Kenneth C. Frazier of Merck and Co. (Read: Why PM Modi is meeting global CEOs in US)
Breakfast will be followed by one-on-one meetings of 15 to 20 minutes each with six other CEOs - W. James (Jim) McNerney Jr, chairman of Boeing; Laurence D. Fink, CEO of American multinational investment management firm Black Rock; Ginni Rometty, president and CEO of IBM; Jeffrey R. Immelt, chairman and CEO of General Electric; Lloyd Blankfein, chairman and CEO of Goldman Sachs, and Henry Kravis, CEO of American private equity fund Kohlberg Kravis Roberts and Co (KKR).
At all these meetings, the Prime Minister is expected to hard sell India as the best investment destination in Asia. India needs huge investment to drive its manufacturing sector, which is the biggest job creator.
The new Modi government has vowed to increase the share of the manufacturing sector to 25 per cent of the GDP from 15 per cent currently. For this, the sector needs to grow at 10 per cent annually. Hours before he left for the US last week, Prime Minister Modi launched the ambitious "Make in India" campaign, where he promised red carpet treatment for investors minus the red tape that has come to be associated with doing business in India. (Read: US investors warm up to PM Modi, but want quick reforms, tax clarity)

On Sunday, at a packed Madison Square Garden in New York, the Prime Minister repeated that promise and vowed to repeal archaic laws and make investing easier in the country.
PM Modi has had a long experience of negotiating with top business leaders and as Gujarat's Chief Minister, he made the "Vibrant Gujarat" investors summit a successful brand.


Officials said he does not need anyone to help him with business talk and does it with great confidence and elan. On a trip to Japan last month too PM Modi engaged deeply in business talk - placing the needs of investment before CEOs clearly, promising all help, and getting firm answers, officials added.
The "Vibrant Gujarat" biennial event was launched in 2003. It has grown in the last 12 years to emerge as "a global business hub" and has established Gujarat as a major investment destination. Next year's summit, to be held in January, is being billed as the "Davos of the East".
(With agency inputs)