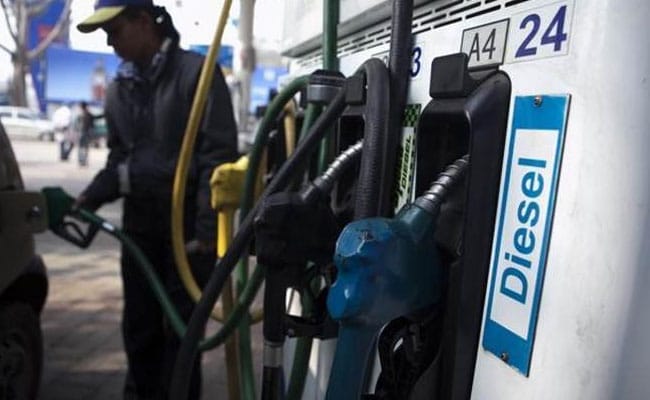 After cutting petrol, diesel prices for six days in a row, the persistent fuel price cut was given a skip on Wednesday. Petrol prices on June 27 (Wednesday) stand at Rs 75.55 in Delhi. The petrol prices in Kolkata, Mumbai and Chennai stand at Rs 78.23, Rs 83.12 and Rs 78.40. Similarly, diesel prices were also left unchanged. Now, the diesel prices in Delhi stand at Rs 67.38. At the same time, diesel will be sold in Kolkata, Mumbai and Chennai for Rs 69.93, Rs 71.51 and RS 71.12, respectively. On Tuesday, petrol prices were cut in the range of 14-18 paise, and diesel prices were brought down in the range of 10-12 paise.
The fuel prices are being continuously cut since May 30. So far, petrol prices have been slashed by Rs. 2.88 (Delhi) after its price touched a peak of Rs. 78.43 on May 29. Similarly, diesel prices have been revised downward by Rs. 1.93 since May 30 after the prices hit a record high of Rs. 69.31 on May 29.
Fuel Prices In Metro Cities
Petrol Prices in Non-Metro Cities
Diesel Prices In Non-Metro Cities
Petrol and diesel prices in the country are determined by a host of factors which include global crude oil prices, dollar-rupee exchange rates, state taxes (value added tax) and central tax (excise duty) and profit margins.
In June 2010, the government deregulated (freed petrol pricing from its control) petrol prices. Following the move, diesel prices in the country were also de-regulated nearly four years later in October 2014. The government further allowed the revision of prices on a daily basis since mid-June 2017 so as to reflect the changes in cost instantly. The central government raised excise duty on petrol by Rs. 11.77 a litre and that on diesel by Rs. 13.47 a litre in nine instalments between November 2014 and January 2016 to shore up finances as global oil prices fell. However, the government cut the tax just once in October last year by Rs. 2 a litre, the report further said.
Also Read: Crude Oil Prices In Focus After OPEC Decision: Where Are They Headed?
In the international markets, oil prices rose on Wednesday, pushed up by supply disruptions in Libya and Canada and after US officials said all countries should stop Iranian crude imports from November. Brent crude futures were at $76.60 per barrel at 6.41 am, up 29 cents, or 0.4 percent, from their last close.