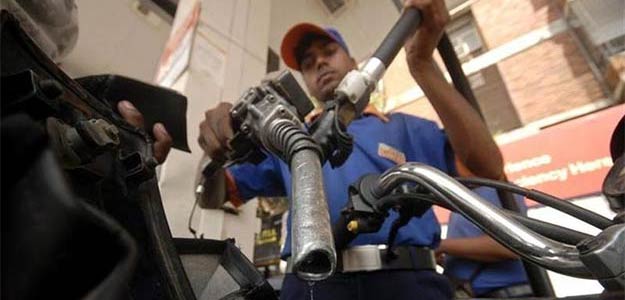 New Delhi: Petrol price was on Monday hiked by 64 paise a litre, but diesel price was cut by Rs 1.35 per litre in line with trend in global oil rates.

This is the third increase in petrol price since May.

However, in case of diesel, the reduction has halted two consecutive increases during last month. The revision in rates will be effective from midnight of 15 and 16 June.

Petrol in Delhi will cost Rs 66.93 per litre from tomorrow instead of Rs 66.29 at present. A litre of diesel will cost Rs 50.93 per litre as opposed to Rs 52.28, Indian Oil Corp (IOC), the nation's largest oil company, said.

On May 16, petrol price was hiked by Rs 3.13 a litre and diesel by Rs 2.71 per litre.

However, on June 1, companies skipped raising rates by 30-40 paise that had become necessary due to rise in international rates.

"Since last price change, there has been an increase in international prices of petrol while international prices of Diesel have shown a downward trend.

"Indian rupee-US dollar exchange rate has depreciated during this period. Combined impact of these factors warrant an upward revision in prices of petrol and a downward revision in prices of diesel, the impact of which is being passed on to the consumers with this price change," IOC said in a statement.


The three hikes in petrol rates have wiped away more than one-third of the gains that had accrued to consumers when global rates began to fall in August. In case of diesel, the reduction has partly restored the gains taken away in May.
State-owned fuel retailers IOC, Bharat Petroleum Corp (BPCL) and Hindustan Petroleum Corp (HPCL) revise petrol and diesel prices on 1st and 16th of every month based on average imported cost and rupee-dollar exchange rate in the previous fortnight. .
Prior to the Rs 3.13 increase in petrol price on May 16, rate of the fuel was raised by Rs 3.96 on May 1. In case of diesel, rates were hiked by Rs 2.37 (on May 1) and by Rs 2.71 (on May 16).
Petrol prices have been cumulatively cut by Rs 17.11 a litre in 10 reductions between August and February and diesel by Rs 12.96 a litre in six cuts between October and February.
After two rates hikes (0.82 a litre in petrol and Rs 0.61 per litre in diesel on February 16 and Rs 3.18 per litre in petrol and Rs 3.09 a litre in diesel on March 1) rates were again cut on April 2 (49 paisa a litre in petrol and Rs 1.21 in diesel) and on April 16 (80 paise per litre on petrol and Rs 1.30 a litre on diesel).
"The movement of prices in international oil market and rupee-USD exchange rate shall continue to be closely monitored and developing trends of the market will be reflected in future price changes," IOC said.