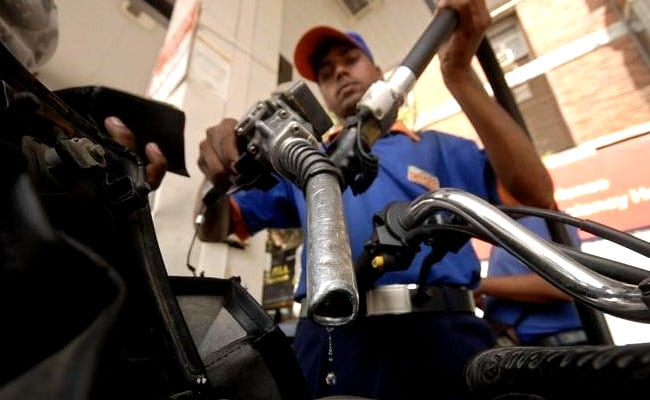 Petrol and diesel prices were hiked on Wednesday, a third straight day of increase. From 6 am on Wednesday, petrol prices were raised by 15 paise per litre in Delhi and Mumbai, 14 paise per litre in Kolkata and 16 paise per litre in Chennai, data from Indian Oil Corporation showed. Diesel prices were increased by 21 paise per litre in Delhi and Kolkata, 22 paise per litre in Mumbai and 23 paise per litre in Chennai. With that, petrol prices are at their highest level recorded since September 2013 while diesel prices are at their all-time high - meaning diesel has never been this expensive in the national capital before.
Here are 10 things to know about petrol and diesel prices today:
Including Wednesday's hike, petrol prices have gone up in the range of 46-50 paise per litre across Delhi, Kolkata, Mumbai and Chennai in three days. Diesel prices have been raised by 48-69 paise per litre. Petrol and diesel prices have been hiked for three straight days after a 19-day hiatus.

Petrol price (in Rs per litre)
Diesel price (in Rs per litre)
16-May
13-May
31-Mar
31-Dec
16-May
13-May
31-Mar
31-Dec
75.1
74.63
73.55
69.97
66.57
65.93
64.4
59.64
77.79
77.32
76.26
72.72
69.11
68.63
67.09
62.3
82.94
82.48
81.41
77.87
70.88
70.2
68.58
63.27
77.93
77.43
76.29
72.53
70.25
69.56
67.93
62.83
(Source: iocl.com)

Currently, petrol and diesel rates in the country are reviewed on a daily basis. New rates - determined broadly by global crude oil and rupee-dollar forex rate - are implemented at fuel stations with effect from 6 am every day. That is part of a daily system of fuel price revisions adopted in June last year. (Also read: Excise Duty Cut Rules Out)
Global crude oil prices settled a shade firmer after retreating from multi-year highs hit on Tuesday.
Crude oil prices were supported by concerns that US sanctions on Iran are likely to restrict crude exports from one of the biggest producers in the Middle East. Brent crude oil had touched an intraday peak of $79.47 a barrel - its highest since November 2014.
"Donald Trump's move to re-impose sanctions on Iran has spurred interest in Crude oil futures, but the latest momentum in upsurge in US inventories, as per API data, is locked in a tight range. We expect crude oil prices (Brent) to loom around $70-$80/bbl in remaining 2018 amid increased geopolitical tension with downward risk to price from increasing US shale production in the higher price environment," Abhishek Bansal, founder and chairman of Abans Group, told NDTV.
Weakness in the rupee, which is down over 6 per cent against the US dollar so far this year, further put pressure oil importers. The rupee recovered some ground on Wednesday but was not far from 68 against the US dollar, a level breached against the American currency after a gap of 16 months.
"In the current scenario, rising crude oil price may push oil companies to revise petrol and diesel price more frequently in near term. This trend may continue further unless we see any major correction in crude oil prices," Mr Bansal added.
Petrol prices are up around Rs 5.07-5.40 per litre in the four metros so far this year, while diesel has soared by Rs 6.81-7.61 per litre, data from Indian Oil showed. (Also read: Government for bringing petrol under GST)
Crude oil is the biggest item on the import bill of India.
India imports more than 80 per cent of its crude oil requirements.