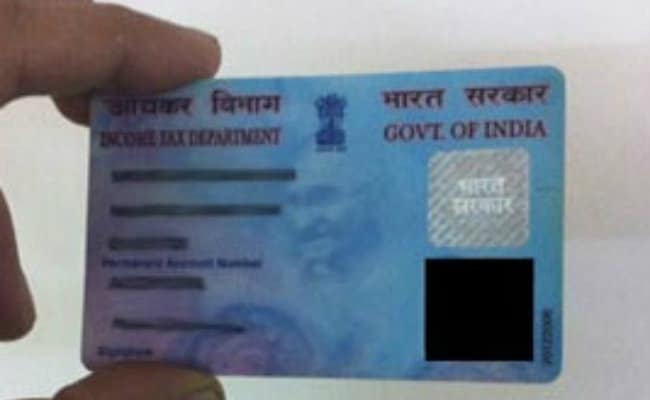 Highlights
Deadline to link aadhaar to PAN has been extended till March 2019
This is the fifth time that the deadline has been extended
You can link the two databases on portal.incometaxefiling.gov.in
Those who have failed to link PAN cards to aadhaar cards need not fret since the deadline of PAN-Aadhaar linking was extended one more time on June 30. The latest move is the outcome of an order of tax department's policy making body: Central Board of Direct Taxes, on June 30 following which the deadline for the PAN-Aadhaar linking has now been further deferred to March 31 next year. This is the fifth time that the government has extended the deadline for individuals to link their Permanent Account Number (PAN) to Aadhaar. CBDT issued an order, under Section 119 of the Income Tax Act, late night, extending the deadline.
How to Link PAN-Aadhaar card. Five Things to know
1. You can go to portal.incometaxefiling.gov.in for linking your PAN card to aadhaar.
2. A web page opens where you are asked to write details of PAN card, aadhaar number, name as per aadhaar. As you write your name in the form, you must make sure that the name on aadhaar matches exactly as on PAN card.
3. The form (as given in the screen shot below) asks you to write the captcha code as given. As you fill all the details, you can request the one time password (OTP).
4. The income tax department cautions that the name, date of both and gender as per PAN will be validated against aadhaar details. The department also tells the citizens that they must make sure that aadhaar number and name as per aadhaar is exactly the same as printed on your aadhaar card.
5. After you fill the form, you can check the status of your application (as shown in the screen shot below) by feeding the PAN and aadhaar number.
This is the web page that appears when you want to check 'Link aadhaar to PAN' status
Last time when Central Board of Direct Taxes (CBDT) extended the deadline was on March 27.
The latest order said the deadline for the PAN-Aadhaar linking for filing I-T returns was being extended after "consideration of the matter". It is understood that the fresh CBDT order has come against the backdrop of the Supreme Court earlier this year directing extension of the March 31, 2018 deadline for linking Aadhaar card with various other services.
The court order said that the deadline be extended till the five-judge constitution bench delivers its judgment on petitions challenging the validity of the biometric scheme and the enabling law.
As per updated data till March, over 16.65 crore PANs, out of the total about 33 crore, have been linked to Aadhaar. The earlier deadlines for linking the two databases were July 31, August 31 and December 31, 2017, March 31 and June 30 this year.