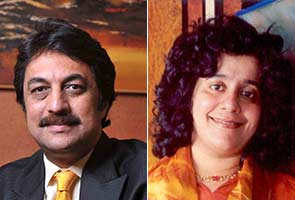 (Shankar Sharma and Devina Mehra head First Global, an international securities firm)
India is a truly insular country with most Indians immersing themselves in the micro focus of their daily lives. Even our papers carry very little global macro news and analysis, and that is largely to do with the lack of demand from readers.
Back in 2004-07, we watched in amazement as everybody around us went crazy on how this was "India's century", on how India was an "asset class by itself "(an utterly ludicrous assertion). If one even tried to even gently remind people that "Guys, there is a global bull market on, and we are simply participating in it", one was branded a perma-bear, even anti-national!
And now, it is diametrically the opposite. Almost everybody we meet, tells us how bad India has become, how we are a failed nation, how we have "lost a decade" and rubbish like that.
Present in both the above mindsets is complete ignorance of how global macro works, and how India, as the third largest economy in the world, simply can't chart a growth course that is completely opposite to what the world is undergoing. What is missing is also any attempt to do any sensible global comparative analysis of how the rest of the world has fared, particularly since the Great Recession of 2008.
Here's a brief snapshot of the state-of-health of what constitutes 95 per cent of the world's GDP.
Russia: 2 per cent growth or lower, down from 8 per cent in 2007/8; Massive over-dependence on oil and gas.
Brazil: 3 per cent current account deficit (CAD); massive growth collapse since 2008 from 6 per cent to 1-2 per cent; plunging currency and stock markets, especially since July 2013.
Indonesia: Acute CAD and inflation problems; Corruption is a massive issue.
Singapore: Sharply slower growth at just about 1 per cent, down from 9 per cent in 2008! Also has huge debt/GDP at 110 per cent and unsustainably high consumer debt levels.
Thailand: Massive political unrest, sharp slowdown. Economy contracted 0.3 per cent quarter-on-quarter (q-o-q) between April to June of 2013, following a 2.2 per cent q-o-q decline between January and March of 2013. Falling currency, falling stock market
Turkey: Once a celebrated economy, the country has descended into chaos, with massive current account deficits, plunging currency, crashing growth, and decimated stock market.
South Korea and Mexico both remain troubled on differing counts. Growth rates have halved from 2007 and outlook seems murky.
The US and Eurozone remain mired in a zero-to-slow growth rut, despite trillions of dollars of stimulus. Outlook for both remains fragile. What is keeping everybody worried is what will be the US' real growth and unemployment at zero stimulus and reasonable interest rates.
China: In early 2012, China was leveraged to the hilt with debt/GDP of 150 per cent. That number is well over 200 per cent now. Then, China needed 1.4 units of debt to generate 1 unit of GDP growth. It now needs 2 units of debt. Its inflexible exchange rates and soaring labor costs are making China uncompetitive in trade. Bank non-performing loans (NPLs) could be 20 per cent of GDP easily: its fifth such crisis in 20 years. Debt fueled booms end badly, and we are pretty close to a painful end game in China.
Now, do you still feel bad about India? 10 years, off the charts growth, while reducing debt/GDP sharply to 67 per cent from a near-bankruptcy level of 85 per cent under the NDA (all with 7 per cent WPI inflation) and moderate current account deficit and low external indebtedness? India has slowed down, but compared to the fall off a growth cliff every country has seen since 2008, a 5 per cent growth with near zero debt risk, is superb performance by any standards.
It is the equivalent getting a fighting 98 on a Perth track against Mitchell Johnson when nobody makes even double figures. Sometimes a 98 is infinitely more valuable than a double hundred on a featherbed.
It is immature to expect India to be in macroeconomic heaven, growing at 8 per cent, with little fiscal or current account deficits and moderate inflation, all when the India is the world's third largest economy, and hence can't escape unscathed from the ravages of the global crisis. The general view is that India should adhere to no trends of global macro.
And this leads to the under-analysed, oversimplified view that we need macho, alpha-male leadership, because it singlehandedly, can be the alchemy that turns headwinds into tailwinds. Economic reality, if at all we are capable of facing it, is a bit more complicated than that.
But, the inarguable fact, in light of the above state of the world, is that what India has achieved, particularly under UPA II, is a tremendous economic performance.
That is not to say we don't have problems. We do. But wouldn't you rather have our problems than any of the above countries'?
Greatness has no absolute measure, be it in sports, business, or in the political economy. We can only say who the best is when we compare that entity to the rest in the group.
And compare India to the rest: it is a no contest. Nearly all other countries have busted their balance sheets, taking their debt/GDP to unsustainable levels. This essentially mortgages their future generations' lives. The UPA I had an easy time. It is the UPA II that has truly excelled, in the face of the worst economic crisis any living person has ever seen: by delivering reasonable growth with low risk, in the face of very, very hostile conditions.
India, under the UPA II, has resisted the grandstanding temptation to show short term debt-fuelled, economic growth by spending its way out of trouble (the way GDP is calculated, the more you spend, even wastefully, the faster you grow! This is absurd, but true).
We, as sensible educated folks, have to think deeper on what is a better strategy: spend our way out of trouble with increased debt, or conserve our bullets and ride out the slowdown with all our wickets intact? Commonsense tells us which the better strategy is.
Disclaimer: The opinions expressed within this article are the personal opinions of the authors. NDTV is not responsible for the accuracy, completeness, suitability, or validity of any information on this article. All information is provided on an as-is basis. The information, facts or opinions appearing in the article do not reflect the views of NDTV and NDTV does not assume any responsibility or liability for the same.