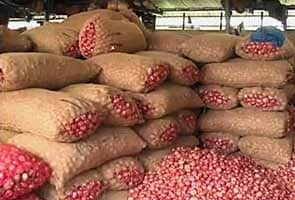 While Delhi has seen an almost 50 per cent jump in onion prices in a week, prices are up by over Rs.10 per kilogram (60 per cent) in Mumbai, and the trend is seen continuing in Bangalore and Kolkata. The recent increase in onion prices, whether in the North or the South, is bringing tears to people's eyes while wholesale traders don't see any respite in the near future. (Watch)
Some traders in the national capital say onion prices can go as high as Rs 50 per kilogram amid weak supply.
"Supply has been less. The price can rise up to Rs 50 (per kilo)," said Surendra Buddhiraja, member of the Agricultural Produce Marketing Committee (APMC) at Azadpur vegetable market.
The government has said that although the supply is not a problem, the price hike is due to black marketers and hoarders. As part of its strategy, it has asked all states to ensure proper supplies of essential commodities. The Union Food Secretary has also written to states to crackdown on hoarders.
Besides, poor monsoon rainfall has played a part in the price situation, a Mumbai trader said.
| | Last week | This week |
| --- | --- | --- |
| Delhi | Rs 20-24 | Rs 30 |
| Mumbai | Rs 20 | Rs 32 |
| Bangalore | Rs 30 | Rs 35 |
| Kolkata | Rs 22-24 | Rs 26-30 |
The jump in the price of the bulb is already visible in retail prices across the country. Just a fortnight ago, the government imposed a minimum export price (MEP) of $300 per tonne on onions to stem its rising price.

After wholesale price inflation accelerated to a five-month high in May, the new government imposed the price rule on onions three months after the previous administration withdrew it.

"There is no report on rising onion prices yet the government has taken measures. There will be onion mobile vans to sell them in Delhi," Secretary for Civil Supplies in Delhi Sajjan Singh Yadav said.


"Fruits and vegetables have been kept outside APMC so that it can be kept out of the middlemen. We have also raided hoarders."
As consumers battle the rising prices, a political blame game has already begun with the government and Opposition blaming one another for the spike in prices.