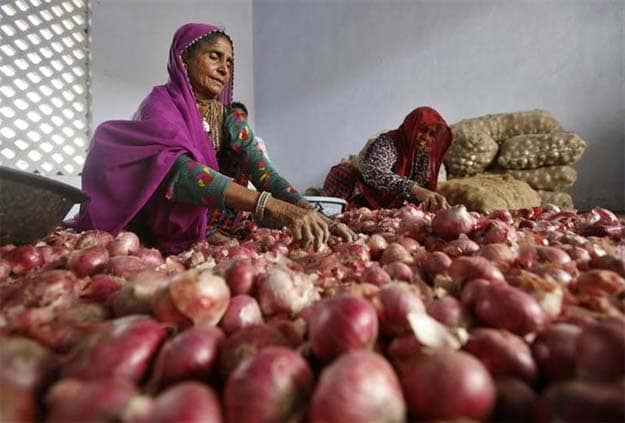 Onion prices in Delhi surged by a third on Monday to hit a record high on a supply squeeze due to last year's drought in key growing areas, and as this year's crop was damaged in some southern and northern states due to heavy rainfall.

Retail prices have risen more sharply. In some metropolitan areas like Mumbai, the retail price was Rs 65 per kg on Monday, compared with Rs 20 just two months ago. In Delhi, onion is now selling at up to Rs 80 per kg.

The average prices at Lasalgaon, India's largest wholesale onion market in Maharashtra, jumped nearly 37 per cent to Rs 4,300 per 100 kg, breaking the earlier record of Rs 3,800 struck on December 20, 2010.

The onion is a common ingredient in many Indian dishes. Soaring prices of the vegetable have helped dislodge state governments in the past, and rising food costs often spark street protests.

Key spot markets in Maharashtra, the country's top onion producer, received only about half the supply in August compared with last year, data with the National Horticultural Research and Development Foundation showed.


The Congress-party led government, battling economic pressures including a rupee falling to record lows and an all-time high current account deficit as well as reviving inflation, must face elections within a year.
"Onion supplies will improve from mid-October, until then prices will remain firm," said Vilas Bhujbal, a vegetable trader based in Pune.
Maharashtra is the country's top onion producer. In 2012, it was hit by its worst drought in more than four decades, curbing the area planted with onions and trimming yields. The state's output fell nearly 16 per cent to 4.76 million tonnes in 2012/13. Heavy rainfall hurt this year's planted crop in Rajasthan and Andhra Pradesh, making the supply squeeze worse, Bhujbal said.
(With inputs from Reuters)