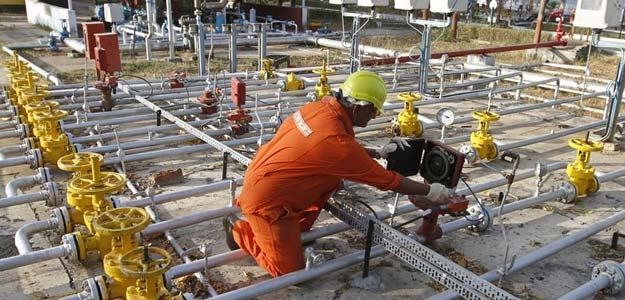 Mumbai:
Oil and Natural Gas Corp's net profit halved in the third quarter, its second successive quarterly profit drop, hurt by the continuing decline in crude prices which impacted the state explorer's sales.
Brent crude has dived to less than $60 a barrel in December from a peak above $115 on June 19 last year as increasing US shale oil output helped create a glut amid sluggish global demand growth.
State-owned ONGC's net profit fell to Rs 3,571 crore ($575 million) for the quarter ended December 31, the company's fiscal third quarter, from Rs 7,126 crore a year earlier, the company said in a statement issued to stock exchanges on Saturday.
Analysts, on average, had expected ONGC to earn a profit of Rs 5,982 crore, according to Thomson Reuters data.
ONGC's profit in the year-ago quarter was boosted by a one-time provision writeback and forex gains from a weakened rupee.
India regulates retail prices of liquefied petroleum gas and kerosene to keep prices under check, with upstream companies like ONGC and Oil India Ltd sharing the cost of subsidising state refiners.
The government last year deregulated the price of diesel, the most widely consumed fuel in the country, helping lower the company's share of the subsidy by 31 per cent to Rs 9,458 crore for the quarter.
However, the continued slide in crude oil prices to over five-year lows by December-end hit the company's net realisation, or the earnings per barrel of crude.
ONGC, India's largest exploration company, has been acquiring assets overseas and trying to boost domestic capital spending in recent years to maintain output from its ageing wells.
Exploration related write-offs rose a third in the quarter to Rs 2,475 crore.
Shares in ONGC, in which the Indian government plans to sell 5 per cent of its stake, have tumbled 12 per cent in the past quarter over uncertainty around a fixed subsidy sharing formula and the crude price decline.
($1 = Rs 62.0658)
© Thomson Reuters 2015