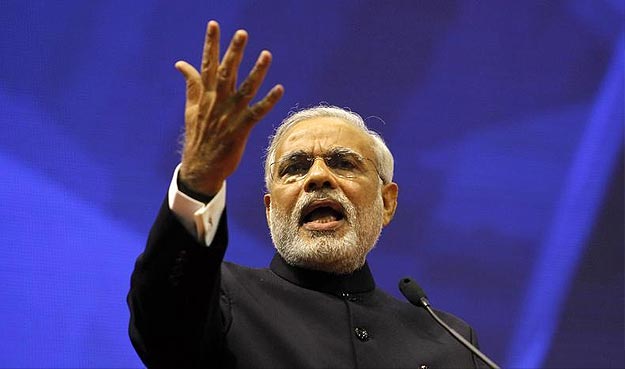 There is a new coinage on Dalal Street - the Modi bull market. It refers to an anticipated bull run if Narendra Modi gets to form government in next year's general elections.
Ramesh Damani, a member of the Bombay Stock Exchange and a 30-year veteran of stock markets, believes that there is a "Modi rally" in the making as markets have held on to slender gains despite a dismal economic scenario. (Watch the full interview)
Equities have been extremely choppy since May, first going down sharply, and then recovering in a matter of days. However, year-to-date the BSE Sensex is up 2 per cent even as India is growing at the slowest pace in a decade and high inflation and interest rates have impacted new investment and capacity creation.
"How do you explain that in front of such bad economic data, in front of such policy paralysis, the market was within an earshot of a lifetime high...? I think sometimes the market discounts six-eight months in advance. There's a possibility that markets are sensing an electoral change," Mr Damani said.
The reason I am saying there is a "Modi bull market" is because the market believes that a strong policy hand is needed at the centre. "Modi is perceived to be an able administrator, someone who gets things done. So, the market is moving ahead," he added.
On this Street at least, the Gujarat Chief Minister, who was named the BJP's presumptive Prime Minister earlier this month, seems to enjoy much support.
Last month, Christopher Wood, an analyst with CLSA had said, "The Indian stock market's greatest hope is the emergence of Gujarat Chief Minister Narendra Modi as the BJP's prime ministerial candidate." (Read the full story)
A poll by Economic Times earlier this month found that nearly three-quarters of Indian business leaders want Narendra Modi to lead the country after elections next year. (Read)
Mr Damani says Mr Modi is clearly favoured by business houses and votary groups that matter in the stock market. But he does add that it's too early to visualise a Modi victory. "It's too premature to make any of these scenarios count... but market want something... liquidity is still good because of what (Fed chairman) Bernanke did and so markets are latching on this theme," he says.
He also adds a disclaimer saying predictions such as the one he is making often tend to go wrong. "It's difficult to say if market is right or wrong at this stage ...One year in politics is an eternity... its infinity," he said.
Mr Damani has based part of his analysis on the upcoming assembly elections in December, where he believes, the BJP is a favourite to win in three states.
"The 4th, Delhi, is neck and neck. If he (Narendra Modi) can pull off a win in Delhi too then perhaps markets will sense a broader electoral victory and then momentum begets momentum," he said.