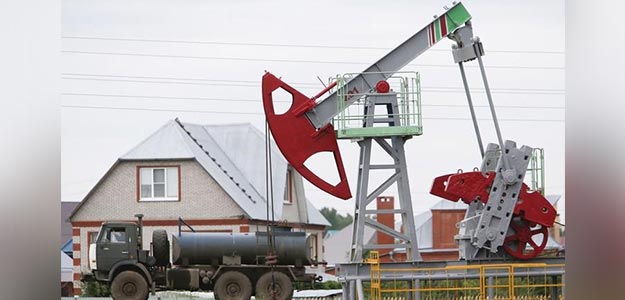 Mumbai
: Reliance Industries (RIL), which on Tuesday reported its best-ever quarterly net income at Rs 7,290 crore on better refining margins, said it will continue to scale down capital expenditure (capex) for its struggling shale gas business in the US.
RIL's shale gas business in the US includes three upstream joint ventures with Chevron, Pioneer Natural Resource and Carrizo Oil and Gas. It had sold its midstream JV with Pioneer last June.
So far, RIL has invested a whopping $8.1 billion into these three entities. "We have been scaling down our capex for the shale gas
business. Going by the way the energy prices are behaving, there is no way we will be increasing our investment in this business. While last year we had invested over $1.2 billion, we have brought that down to $500 million this year.
"Going forward too, it will remain at that level or even lower," Reliance Industries Group Deputy Chief Financial Officer V Srikanth told reporters here this evening.
But he was quick to add that the company does not see any more impairment charges for the US business in the fourth quarter nor had many such provisions in the December quarter.
Asked about whether RIL is looking at cashing out, he said going by the gas price, this is not the right time for a sale.
The average US shale realisation was down 50 per cent y-o-y to $2.81/MCFe as of September quarter, the company said.
RIL has not given a break-up of its oil and gas business for the quarter but said its total upstream revenue declined 38 per cent to Rs 1,765 crore in the October-December period.
It spent Rs 81,463 crore in the first three quarters of 2015-16, mainly on account of ongoing expansions projects in the petrochemicals and refining business at Jamnagar, Dahej and Hazira, Jio Infocomm and also in US shale gas.
The decision follows a steep fall in energy prices across the globe on over-supply, coupled with environmental concerns in the US which led to many states banning shale gas projects, saying shale fracking contaminates ground water. Due to these factors, many companies are reducing their exposure to shale gas assets in that country.
Even RIL's once-prized KG-D basin has produced gas worth a paltry Rs 90 crore in the third quarter and Srikanth on Tuesday concurred with a report that by 2020 the wells may turn dry.
RIL in June 2010 bought 45 per cent stake in Pioneer's Eagle Ford shale formation in south Texas for $1.31 billion and since then has invested $3.91 billion into the JV.
On June 2, 2015 RIL and Pioneer sold a part of its gas assets for $2.15 billion to Enterprise Products Partners, while choosing to retain the upstream business.
Reliance and Pioneer Natural sold the stake in Eagle Ford Shale Midstream as gas prices have nosedived.