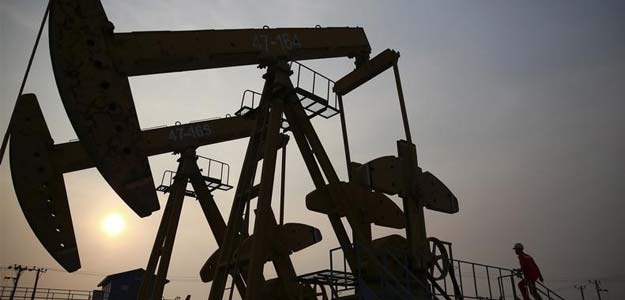 New York: Global oil markets slumped on Tuesday for a fourth straight day, still seeking a bottom with crude prices at their lowest since spring 2009 on mounting worries about a supply glut.
Traders said the trend for crude seemed lower, but that prices could bounce up whenever there is a break in market sentiment. One such moment occurred on Tuesday when weaker-than-expected US economic data suppressed the dollar for a while. This brought crude off session lows, but only briefly before the downward path resumed.
Refined products such as gasoline and heating oil also got a break in Monday's morning session, rallying as investors took profits on short positions. They later succumbed to the broader trend, trading more than 1 per cent down by afternoon.
Crude oil prices have plunged more than 55 per cent since June, when benchmark Brent traded above $115 a barrel and US crude above $107.
In Tuesday's session, Brent was down $1.87 at $51.24 a barrel by 12:51 p.m. EST (1751 GMT), after falling to $50.96, its lowest since May 2009.
US crude was down $1.85 at $48.19 after plumbing an April 2009 low at $47.74.
"I think the likelihood of seeing $46 to $45 is quite likely," Phillip Streible, senior market strategist at RJO Futures in Chicago, said. "People, I think, are further understanding that the US is becoming a powerhouse in creating crude oil and that's not going to change anytime soon."
The June selloff began on concerns of oversupply in high quality US shale crude. It accelerated after the OPEC meeting in November, when Saudi Arabia ruled out production cuts as a means of boosting prices.
On Tuesday, Saudi Arabia's King Abdullah said in a speech read for him that the country would deal with the challenge posed by lower oil prices "with a firm will", giving no signs the No. 1 crude exporter will cut supplies.
On Monday, the kingdom's announcement of further oil price discounts for its European and US buyers added to the bearish state of oil markets already staggering from Russian output at post-Soviet-era highs and Iraqi oil shipments near 35-year highs.
US commercial crude oil and products stockpiles were forecast to have risen in the week ending Jan. 2, a preliminary Reuters survey showed on Monday.
Copyright: Thomson Reuters 2015