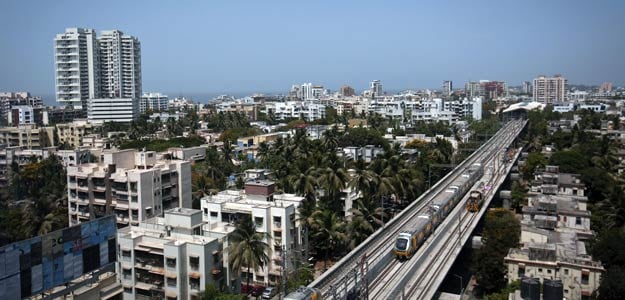 The number of dollar millionaires in India is set to rise by over 60 per cent to 2.94 lakh individuals in the next five years, according to a report from Swiss banking giant Credit Suisse.

Currently there are 1.82 lakh millionaire individuals in India, says the report.

Worldwide, the number of millionaires is set to increase by about 53 per cent in the next five years, reaching 5.3 crore individuals in 2019, according to a study from Swiss banking giant Credit Suisse.

In China, the number of millionaires is set to nearly double in next five years to nearly 23 lakh individuals.

Credit Suisse defines net worth or wealth as the value of financial assets plus real assets (mainly real estate) minus household debt. The study comprises the wealth holdings of 4.7 billion adults across more than 200 countries.

Commenting on the growth in wealth in India, Toral Munshi, Credit Suisse Head of India Equity Research, Wealth Management, said: "Over the last decade itself, the number of people with net worth between $100,000 to $1 million, has doubled from 1.3 million to 2.6 million. India has a significant number of members in the top wealth, 238,000 members of the top 1 per cent of global wealth holders, which equates to a 0.5 per cent share."


In total, there are currently 3.48 crore millionaires in the world. The report indicates that the number of millionaires has increased significantly since 2000, rising by 164 per cent over the period, with the US having 41 per cent of global millionaires. From 2007 to 2009, the number of millionaires in Europe briefly overtook the USA, only to fall behind since then. Japan's share also fell to below 10 per cent a year ago and is now down to 8 per cent.
The report showed that global household wealth increased by 8.3 per cent from mid-2013 to mid-2014 to $263 trillion, driven by wealth growth in the United States and Europe, but the distribution of the riches has also become increasingly unequal.
Number of millionaires in 2014 and 2019 in selected countries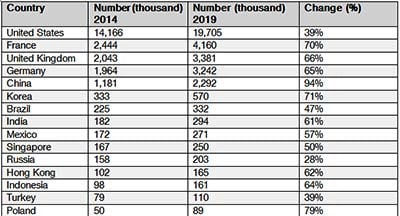 Source: Credit Suisse Global Wealth Report