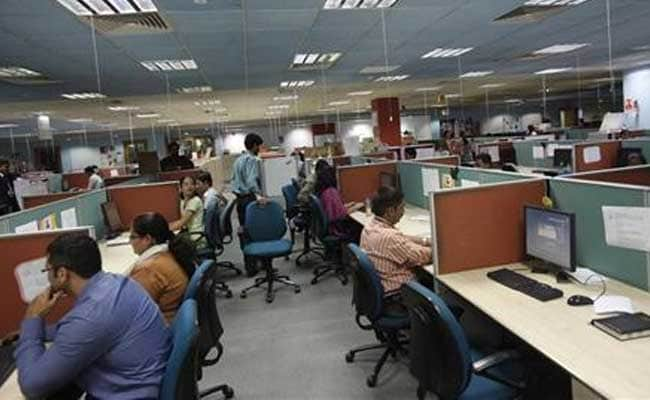 "If you are not compliant as per FATCA (Foreign Account Tax Compliance Act) norms, self-induced contributions and withdrawals will not be allowed," according to the NPS or National Pension Scheme website. FATCA or Foreign Account Tax Compliance Act allows automatic exchange of financial information between India and the US. NPS or National Pension Scheme allows subscribers to add Aadhaar number to their account online. India had entered into an agreement with the United States for implementation of the Foreign Accounts Tax Compliance Act (FATCA) with effect from August 31, 2015. Account holders are required to provide details such as country of tax residence, tax identification number from such country, country of birth, country of citizenship etc.

How To Make Your NPS Account FATCA Compliant Online

Log in to your NPS account through the CRA website (www.cra-nsdl.com). Submit your USER-ID and password.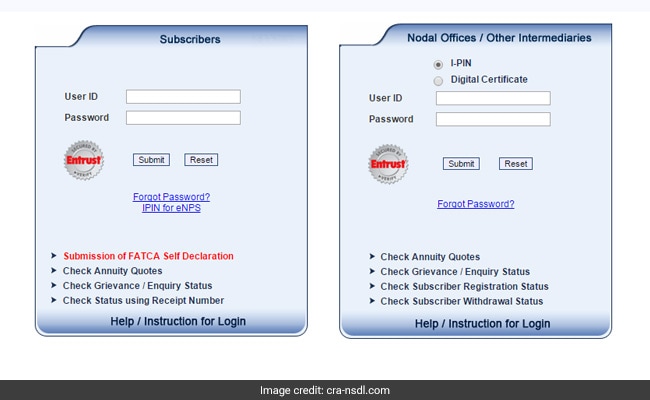 (A snapshot of (www.cra-nsdl.com)

2) To submit online FATCA, go to FATCA self-certification under Transaction menu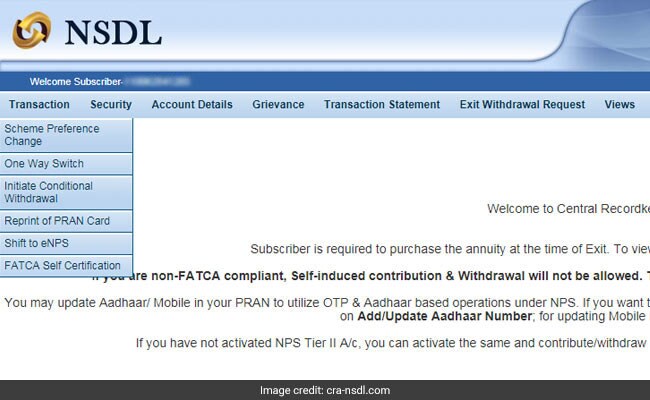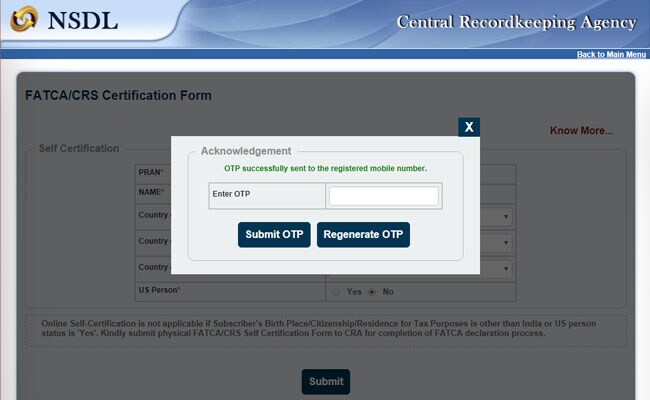 4) Enter the OTP and you will get a message that FATCA certification has been successfully submitted.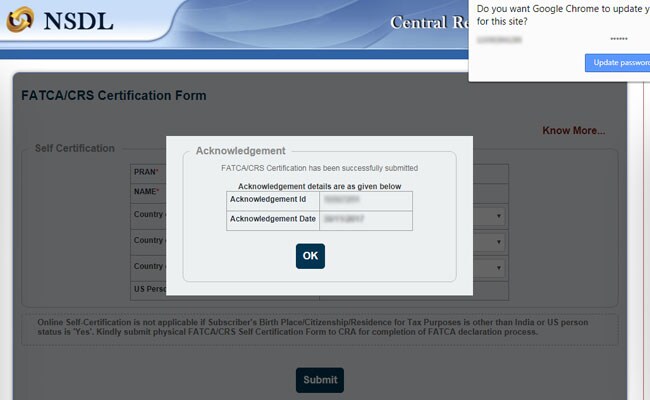 (The acknowledgement ID and date will be displayed on the screen.)

How to add Aadhaar to your NPS account online:

PFRDA, the pension regulator which manages NPS or National Pension Scheme, has advised subscribers to add their Aadhaar numbers to their accounts. The NPS website offers the provision of adding the Aadhaar number of the subscriber. Aadhaar is a 12-digit number issued by Unique Identification Authority of India or UIDAI based on the demographic and biometric information of the person. The Pension Fund Regulatory and Development Authority (PFRDA), the body which manages NPS, has been taking a number of measures to simplify the processes. For example, now an NPA account can be opened online through Aadhaar verification and e-signature.


1) Log in to your NPS account through the CRA website (www.cra-nsdl.com). Submit your user-id and password.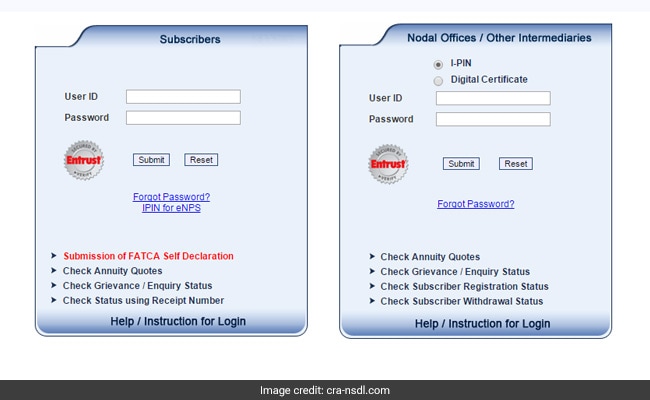 (A snapshot from the CRA website through which you manage your NPS account)

2) If you want to link your Aadhaar now, go to Update Aadhaar/Address details section under the option Update Details. Click on the Add/Update Aadhaar Number option.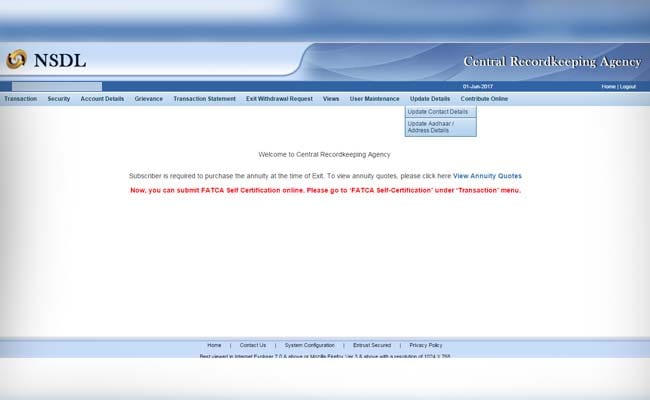 3) Submit your Aadhaar number.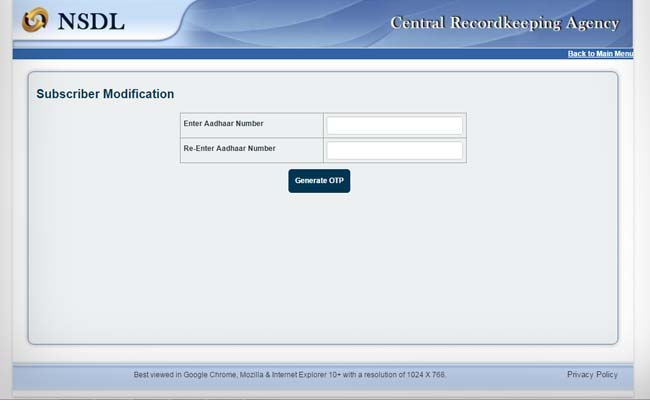 4) Enter the OTP received from UIDAI on your registered mobile number.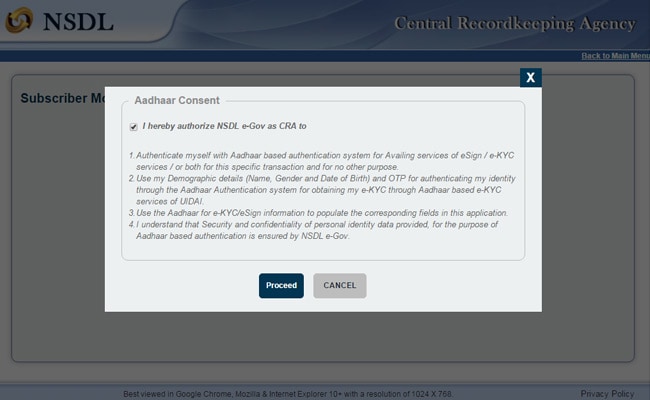 (A One-Time Password for verification of Aadhaar will be sent to the mobile number registered with UIDAI)


5) After authentication through OTP, Aadhaar will be linked to your PRAN. PRAN or Permanent Retirement Account Number is a unique number allotted to NPS subscribers that remains the same for the rest of the subscriber's life.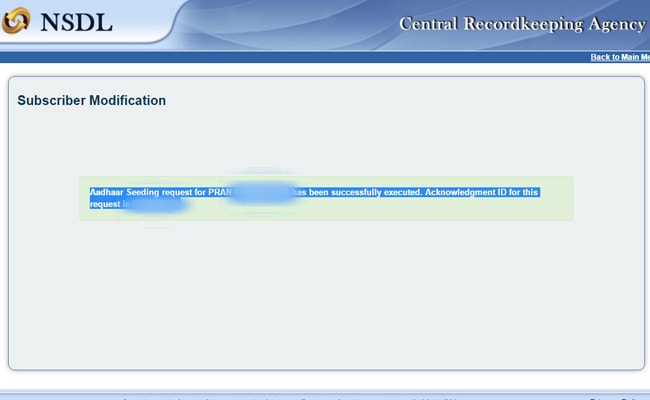 (You will receive a message stating that Aadhaar-NPS has been successfully)

Note: PFRDA has said that the name registered against your PRAN should exactly match the name as registered with "UIDAI" in Aadhaar. If the correction is required on PRAN card, then the NPS subscriber has to submit a self-attested PRAN card copy and a self-attested Aadhaar card copy.