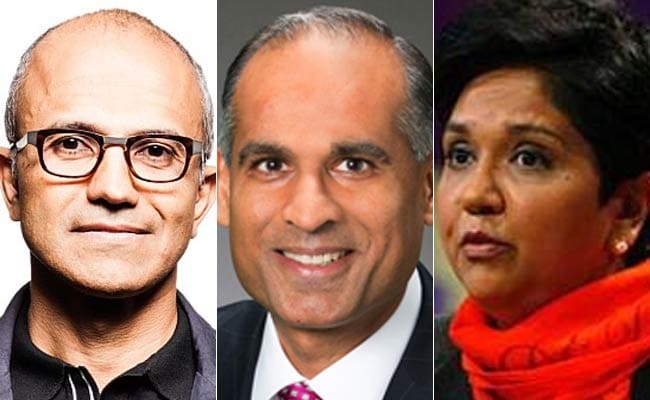 Highlights
Bhavesh V Patel was ranked sixth on the list
Indra Nooyi, the chief executive of PepsiCo, was ranked eighth
Satya Nadella, the CEO of Microsoft, was ranked 26th
New Delhi:
As many as three-Indian origin persons have been named among 100 highest-paid CEOs globally, with PepsiCo's Indra Nooyi and LyondellBasell's Bhavesh Patel making it to the top ten list compiled by Equilar.
Chemicals company LyondellBasell Industries' top executive Bhavesh V Patel was ranked sixth on the list with a total compensation of $24.5 million, while Nooyi, the chief executive of PepsiCo, was ranked eighth on the list with a total pay of $22.2 million.
Satya Nadella, the CEO of Microsoft, was ranked 26th on the list of 100 highest-paid CEOs with a total compensation of $18.3 million.
The overall list was topped by Mark V Hurd and Safra A Catz of Oracle Corp with both boasting a total compensation of $53.2 million.
Others on the top 10 include Robert A Iger of Walt Disney ($43.5 million), David M Cote of Honeywell International ($33.1 million), General Electric's Jeffrey R Immelt ($26.4 million), Randall L Stephenson of AT&T ($22.4 million), Rupert Murdoch of Twenty-First Century Fox ($22.2 million) and James P Gorman of Morgan Stanley ($22 million).
This list is a snapshot of companies that file annual proxy statements before April 1 and aims to provide an early look at CEO pay trends for 2015.
The report further noted that the median pay for Equilar 100 CEOs was $14.5 million in fiscal year 2015, up 3 per cent from the previous year.
Interestingly, eight CEOs on the list are female, and they far outpace the median pay for the Equilar 100 as a whole. "Median compensation for these eight women was $20.0 million in 2015, while average pay was $ 22.7 million," Equilar said.
Catz tied with her colleague Hurd as the highest-paid individual CEO in the Equilar 100, was the highest paid female executive with $ 53.2 million.
Apple is the largest company by revenue on the list, totalling $233.7 billion in 2015, followed by Berkshire Hathaway with $210.8 billion.
"Notably, Tim Cook of Apple was paid below the median ($10.3 million) and Warren Buffett of Berkshire Hathaway was by far the lowest-paid CEO in the Equilar 100, earning $470,244 in total compensation last year," it added.
(This story has not been edited by NDTV staff and is auto-generated from a syndicated feed.)