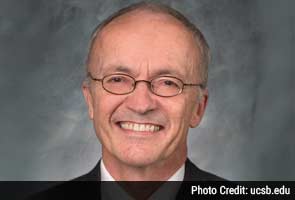 Mumbai: Nobel laureate economist Finn Kydland has supported Reserve Bank of India Governor Raghuram Rajan's strategy of fighting inflation through high interest rates and dismissed concerns of its impact on growth.

"If inflation has been over 8 per cent, then it is reasonable to cut it down to under that level and do his best to make that with a creditable policy," the Norwegian economist, who won the Nobel in 2004, told reporters.

Earlier on Wednesday evening, Mr Kydland delivered a lecture at the University of Mumbai here.

On the concerns about high rates stifling the growth, Mr Kydland, who is now a professor of economics at the University of California, indicated that it may not be the case.

"Presumably, Rajan would slow down some of the expansion of money in the economy and if it is well understood that that's his aim, it ought to have little effect on the behaviour of the real economy," he said.

Asked about his opinion on Mr Rajan, who taught at the University of Chicago's Booth School of Business before returning to the country as chief economic adviser in the finance ministry, Mr Kydland said, "He seems to me a good guy, isn't he?"


Since taking over as RBI Governor in September last year, Mr Rajan has raised interest rates thrice and continues to hold them at a higher level at 8 per cent, citing inflation.
In his speech, Mr Kydland observed that independence of the central bank is key to achieving the broader goals of policymaking, and interference by the executive is not desirable.
He also said there is a tendency among the policymakers to take away the independence of central banks and this was seen in the US too.
Mr Kydland also expressed concern that India continues to be a difficult destination for doing business. On India ranked 142nd by the World Bank on the ease of doing business list, he said, "That is very disturbing, there is no improvement."