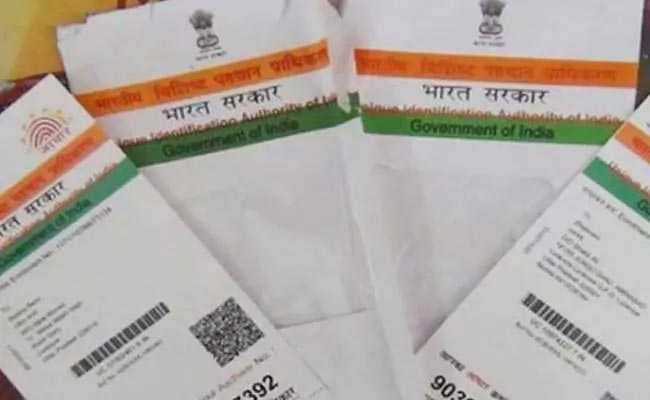 What if someone gets to know your Aadhaar card number? Can an unauthorized person having access to your Aadhaar number steal money from your bank account? Any Aadhaar transaction requires authentication and no financial transaction can be made in absence of such authentication. This was said by the
UIDAI or Unique Identification Authority of India
on microblogging site Twitter. Making the general public aware about Aadhaar card security, the UIDAI said: "Just by knowing your Aadhaar number, no one can cause any harm to your bank account..."
That means, an individual having knowledge of someone else's Aadhaar number - also known as Unique Identity Number (UID) - will not be able to commit a bank fraud against the Aadhaar holder with the 12-digit personal identification number alone. Seeking to allay concerns of Aadhaar holders on safety of their bank accounts, the UIDAI said: "Any transaction requires authentication - biometric (your fingerprint or Iris scan) or
OTP (sent to your mobile)
. Without which, a financial transaction cannot be made."
"No one can harm your bank account just by knowing your Aadhaar," explained the UIDAI, the issuer of the 12-digit Aadhaar number as well as the Aadhaar card.
"Aadhaar number alone cannot be used for banking or
any other service
." That is a message from the UIDAI on its website - uidai.gov.in - where the Aadhaar-issuing body has debunked many misconceptions. Just like by merely knowing someone's
ATM card number
, no one can withdraw money from the ATM machine, according the UIDAI.
Aadhaar authentication requires either a biometric verification or verification on the basis of an OTP or one-time passcode. Biometric verification is carried out by scanning a person's thumbprint or iris. OTP-based verification, on the other hand, is carried out through an SMS-based verification. This SMS is sent by the Aadhaar system to an Aadhaar holder's registered mobile number.
The UIDAI has time and again addressed concerns of the Aadhaar card holders. In a separate Tweet, the UIDAI said that digital Aadhaar card or '
e-Aadhaar
' can be used just like an Aadhaar card in physical form. E-Aadhaar is a digitally signed, verifiable document "as valid as the Aadhaar letter delivered by post", said the UIDAI.
Meanwhile, the UIDAI has set up a dedicated Twitter handle to address customer queries. Users will be able to reach the Aadhaar Help Centre via Twitter handle 'Aadhaar_Care'.