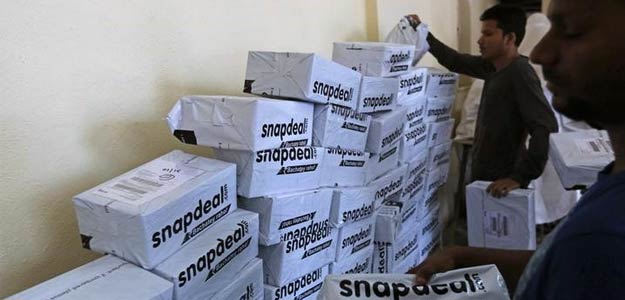 New Delhi: The government on Thursday discussed various issues including taxation related to foreign direct investment in the e-commerce sector with stakeholders such as Flipkart, Snapdeal and industry associations, which pitched for 100 per cent FDI in the sector.
After hour-long meeting stakeholders, Commerce and Industry Minister Nirmala Sitharaman said more such discussion will happen with industry representatives and state governments.
"It was the first meeting.... We are not taking any position this way or that way from the Ministry. We have heard everybody. In fact, this is not going to be sufficient," she told reporters here.
At present, 100 per cent FDI is allowed only in business-to-business (B2B) e-commerce and not in the retail segment.
The government is, however, non-committal on tweaking the FDI policy for the e-commerce sector. "After getting the views from all the stakeholders, we will take some decision," a senior government official said.
Meanwhile, industry chambers demanded 100 per cent FDI in the e-commerce retailing.
"The idea is to emphasize that there has to be a parity between online and offline retail policy with respect to FDI levels," Ficci said in a statement.
Representatives of CII, FICCI, NASSCOM, USIBC, ebay, Ikea, H&M, Japan Plus, Decathlon, Amazon, and trade body Confederation of All India Traders (CAIT) attended the meeting.
Ms Sitharaman said the meeting was to understand the broader context of e-commerce and "the way in which they (industry) need FDI, they may not need FDI. Is it affecting the level-playing field of the brick and mortar stores? All these are being discussed".
About the meeting with state governments, the minister said issues such as taxation and definition of e-commerce needs to be discussed with them.
The minister said stakeholders have raised issues related to taxation, definition and inclusion of e-commerce within the framework of domestic trade policy.
Global players are looking at India because the country is one of the fastest-growing markets in Asia-Pacific, along with China. Rise in Internet penetration, adoption of smartphones and lower data rates are completely changing the way India shops.
According to estimates, the sector's market size in the country is at around $5 billion annually. Analysts said online shopping is expanding at a massive rate.
Ficci said that FDI should be allowed in B2C (business-to-consumer) e-commerce, with a focus on sourcing from manufacturers and in a phased manner.
However, CAIT said that allowing FDI in the sector will counter the vision of 'Make in India' campaign.
The Retailers Association of India (RAI) railed against government's invitation consultation meeting on FDI policy in e-commerce.