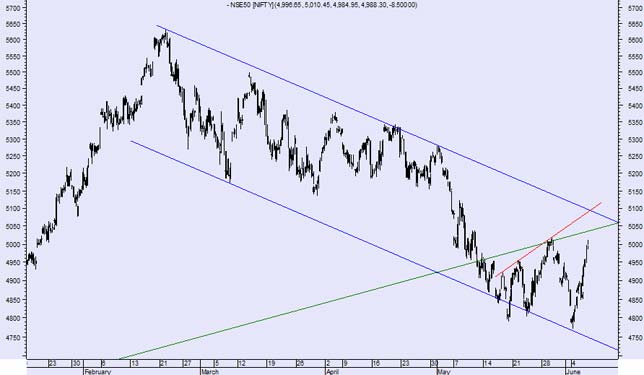 Highlights
If you missed our coverage, here are the top 10 stories of the day.
Mumbai:
The last four weeks have been painful for traders as volatility between 4,800-5,000 levels made money making difficult. Prices fell below the 15 month channel supports.


The current sharp whipsaw has meant that prices have cut back above the 21-day exponential moving average (DEMA) at around 4,950 and this means that the short term view is now up, but medium term hurdles lie between 5,050-5,100 and longer term resistance is at around 5,150 (200 DEMA).
The headroom could be limited so traders need to take long bets with caution.
Larger targets would ensue once markets breakout convincingly past the 200 DEMA. Till then close all shorts and trade long with 4,900 as a stop loss/reversal.