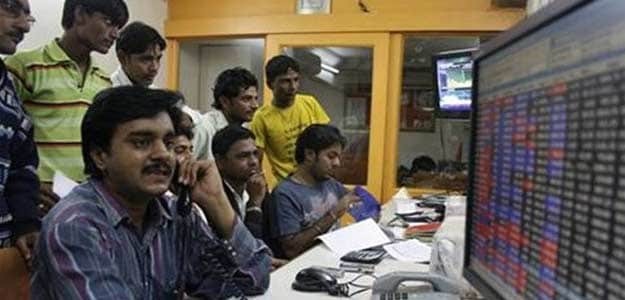 The Nifty fell on Tuesday, retreating from a record high hit earlier in the session as financial firms slumped on worries parliament would delay an insurance bill, while new rules for offshore derivatives raised worries over foreign flows.

ITC Ltd contributed the most to the index's fall, slumping 5.2 percent, the most in a day since June 23 after India's health ministry accepted the recommendation of an internal panel to ban the sale of cigarettes sold loose or outside of packs.

Traders are bracing for more volatility in sessions ahead of the release Friday of economic growth data for July-September and the Reserve Bank of India's policy review on December 2 amid rising pressure on the central bank to cut interest rates.

India's economic growth probably slowed to around 5 percent in the three months to September, slipping from 5.7 percent in the previous quarter, two senior finance ministry sources said.

"Opposition not cooperating on reforms is worrying the market," said Samir Arora, founder and fund manager at Helios Capital from Singapore.

Arora added markets were hoping "time is not wasted on theatrics," referring to political debates in parliament.

The Nifty ended down 0.8 percent at 8,463.10 after hitting a record high of 8,535.35 earlier in the session.

The benchmark Sensex fell 0.57 percent to 28,338.05 after marking its all-time high of 28,541.96 on Monday.

Both the indexes marked their biggest daily fall since October 16.

The declines came following media reports of opposition within parliament to a legislation proposal to allow more foreign investment in the insurance sector.


Among the financial firms that fell, Max India lost 4.8 percent, while Reliance Capital Ltd slumped 4.6 percent.
Among lenders, ICICI Bank lost 2 percent while Kotak Mahindra Bank lost 3.3 percent.
State Bank of India fell 1.4 percent while Axis Bank lost 1.6 percent.
Meanwhile, India's securities market regulator said on Monday it was revising rules for offshore derivative instruments to bring them in line with new foreign investment norms approved earlier this year, raising worries about flows from overseas.
Blue chips also fell, with Larsen and Toubro losing 2 percent and Maruti Suzuki India declining 1.9 percent.
Other cigarette makers besides ITC also slumped, with VST Industries losing 2 percent while Godfrey Philips India ended down 8.8 percent.
Among gainers, Bharat Heavy Electricals rose 3.1 percent after Citigroup upgraded the stock to "buy" from "sell" citing better orders, earnings, and under-ownership by institutional investors.
Bharti Airtel gained 1 percent after American Tower Corpsaid on Monday it would buy Bharti Nigeria phone masts for $1.1 billion.
Copyright: Thomson Reuters 2014