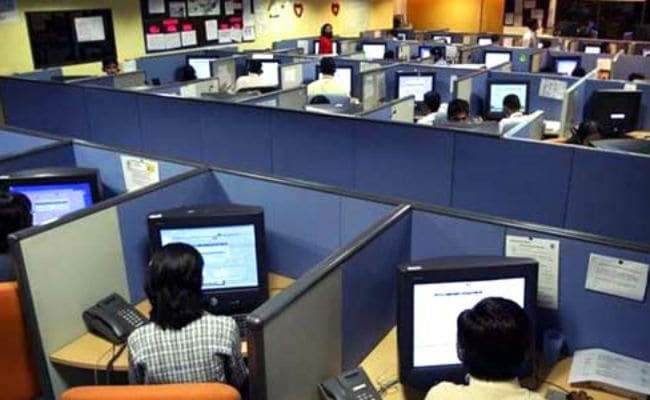 EPFO or Employees' Provident Fund Organisation
has smoothened the process for allotment of UAN or
Universal Account Number
. UAN, which is a unique number assigned to an employee, acts as an umbrella for the multiple member Ids allotted to an individual by different establishments where he or she has worked. "Now, the citizen on going for an employment can submit generated UAN to the employer so that the same UAN will be linked to the member ID allotted to member in that establishment," EPFO said in a notification dated November 21.
"As you are aware that UAN is mandatory for filing the member contribution. Currently, UAN can be generated by employer only and the same to be generated before ECR (electronic challan cum return) filing of that member. Establishments with large number of new joiners every month are facing problem in generation of UAN due to mismatch of input data with Aadhaar," the EPFO notification said.
So EPFO has provided a functionality at Unified Portal "through which any citizen (prospective employee) can generate his/her UAN on the basis of Aadhaar."
Here are the steps listed by EPFO to generate UAN:
1) The person has to log into the Unified Member Portal (https://unifiedportal-mem.epfindia.gov.in/memberinterface/). EPFO offers a number of services to its subscribers through this portal. Then the person has to click on the 'UAN Allotment' link which is on the left side of the EPFO website's home page.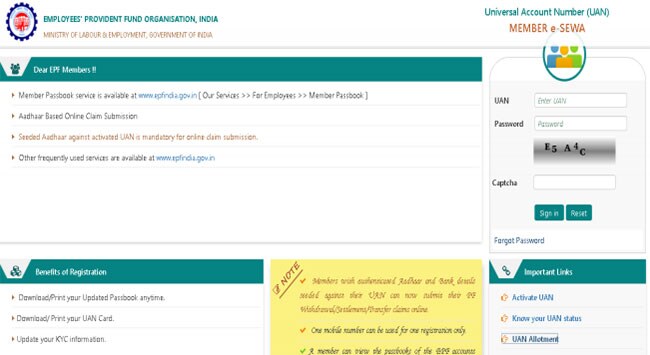 (EPFO has made the UAN allotment link available on the home page of the Unified Member Portal)
2) The user then has to enter his/ her Aadhaar Number and click button "Generate OTP". An OTP will be sent to his/ her registered mobile number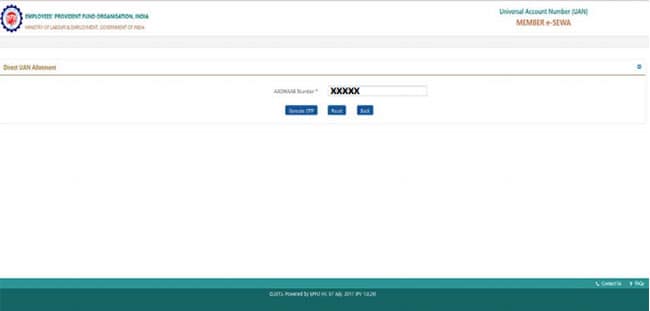 (The person will get an OTP on Aadhaar-linked mobile)
3) After entering the OTP and accepting the Disclaimer provided therein by clicking on the box, the Submit Button will be enabled. Now click the "Submit" button to proceed further.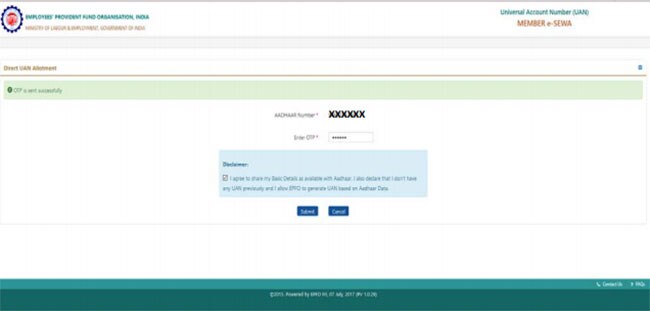 4) A screen displaying the Basic Details available against the Aadhaar entered by the user will be opened. The user can verify his/ her details and enter the requisite data in the mandatory fields provided in the screen. The user can then click the Register button after entering the captcha and selecting the box in the disclaimer section.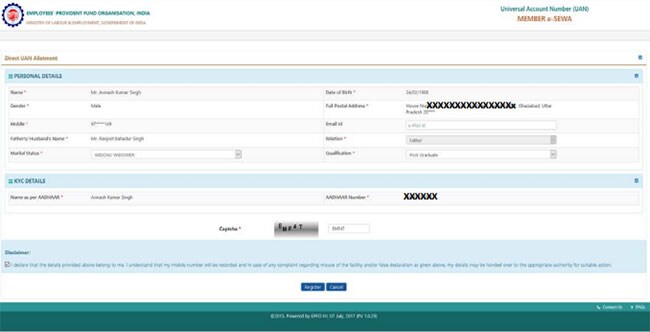 5) After clicking the "Register" button the UAN will be allotted and will be displayed as the message to the user.

UAN or Universal Account Number helps link multiple member ids allotted to a single employee under a single number. With the help of EPFO's new facility the person who does not have a UAN and is looking for employment can generate the UAN and submit to the employer.