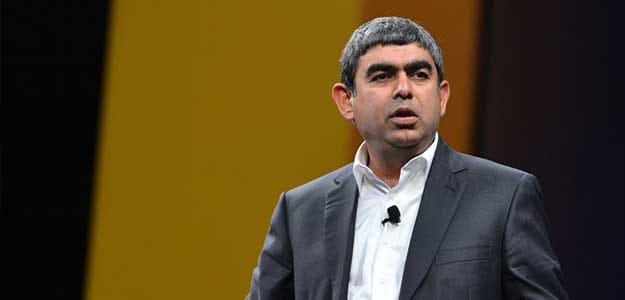 Bangalore:
A major change of guard at Infosys. Dr Vishal Sikka will be the company's new CEO and MD as India's 2nd largest software services exporter turns to the former SAP executive to help reverse four straight years of narrowing profit margins and high attrition.
"I think it is an iconic company. It is a company that has really put India on the IT world map. As an Indian growing up, it was always a matter of tremendous pride. So when the opportunity surfaced it was something I was tremendously excited about," Dr Sikka told NDTV.
(See: Infy names Sikka as new CEO: who said what)
"Infosys has been around for 33 years. We Indians are fascinated by centuries. The second third of a century is ahead of us. The best is yet to come," he added.

Dr Sikka, 47 and a PhD in computer science from Stanford University will replace SD Shibulal and take charge on August 1.
This is the first time that Infosys will have a non-founder CEO.
It has been a difficult time for Infosys since nearly a dozen senior executives have left in the last year.
As part of the changes, Narayana Murthy will step down from the position of executive chairman while his son Rohan Murthy will also quit the company.
Mr Murthy told NDTV that the company was not in a bad shape. "We doubled our growth rate from 5.8 per cent to 11.5 per cent in dollar terms. We enhanced our margin from 23.5 per cent to 25.5 per cent. We crossed Rs 50,000 crores in revenue. We have cash of Rs 30,000 crores plus. This is not challenging at all. Therefore all that we would expect is for the company to become even more successful," he said.

Many have called the choice of Vishal Sikka a brave, unconventional one as traditional IT services business makes up 94 per cent of Infosys' revenues while Dr Sikka's focus so-far had been product development.


The Infosys stock is up 31 per cent over the last one-year while peer TCS is up 52 per cent & Wipro has seen a 55 per cent surge.
Infosys which now employs 1.6 lakh people rewrote the way the world looked at India's IT industry.
It ran into rough weather after the economic crisis in 2008. With Dr Sikka at the helm now it will have to find a balance between chasing long-term goals and keeping the focus on the bread and butter business.
"We have selected an outstanding person in Dr Sikka, I think he is a transformational leader. He will take on this responsibility with a lot of excitement," Infosys board member, and Biocon chief Kiran Mazumdar Shaw said.


At 33 years old, Infosys is a veteran in India's IT industry. But the company has now broken with tradition, choosing as its next CEO and MD someone who is not only not a co-founder but not from Infosys at all. Dr Vishal Sikka says he will be based in California - and he will have his work cut out dealing with the challenges Infosys has faced of late.