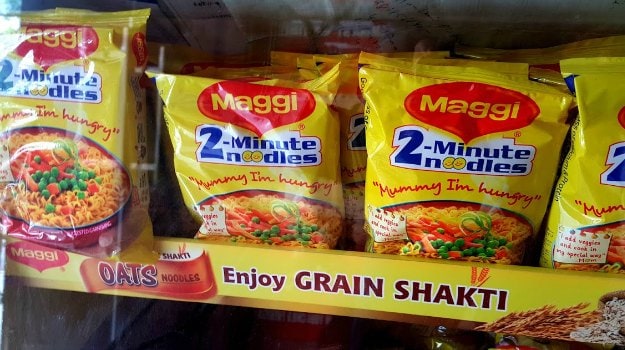 The Bombay High Court ruled on Thursday in favour of Nestle in its challenge to a ban by the food safety watchdog of the Swiss group's Maggi instant noodles over concerns the popular snack contained excess levels of lead.
The court on Thursday said the Food Safety and Standards Authority of India would need to justify its ban, and ordered fresh tests at certain court-chosen laboratories.
If those tests are clear, Nestle could return its noodles to India's shelves, lawyers involved in the case said.
"The writ petition has been allowed and both ban orders have been set aside. Manufacture and sale of Maggi noodles is subject to certain conditions which will be informed after the judgement is received," Nestle India said in a statement to the Bombay Stock Exchange.
The court order is being seen as a big relief for Nestle India, which manufactures the popular Maggi noodles. The court's decision triggered a buying streak in Nestle India shares, lifting the counter by as much as 5.82 per cent.
Nestle had to withdraw all varieties of Maggi noodles in June amid country-wide scrutiny for high content of monosodium glutamate (a taste enhancer) and lead in some samples.
India's food regulator - the Food Safety Standards Authority of India or FSSAI - later banned the snack, ruling it "unsafe and hazardous". Nestle has challenged the ban in the Bombay High Court, where a verdict is due soon.
The controversy over Maggi noodles has weighed on Nestle's financial performance; the company slipped to a second-quarter loss as sales fell 20 per cent because of the withdrawal of Maggi noodles from domestic markets. Nestle also reported one-time loss of Rs 452 crore in the quarter.
"Its good indication and good outlook for any foreign investor who's looking at India as an investment destination," said senior advocate Balbir Singh Mastana.
(With inputs from Reuters)