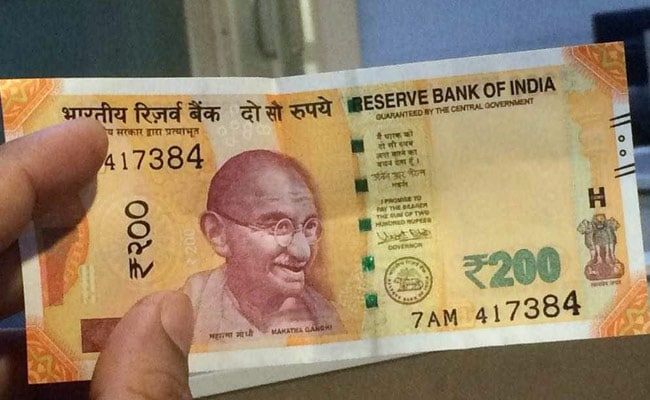 A National Pension System (NPS) account is used for retirement planning. NPS - which comes with market-linked returns - offers benefits in the long run. This was said by State Bank of India (SBI), the country's largest bank, on microblogging site Twitter. Investing in NPS leads to a "secure tomorrow", the bank said. NPS has no fixed rate of interest. While putting the money in NPS, an investor can design a portfolio of his or her choice, that is he or she gets to set exposure in asset classes such as equity, corporate debt and government securities. (
Also read
:
Atal Pension Scheme (APY) explained
)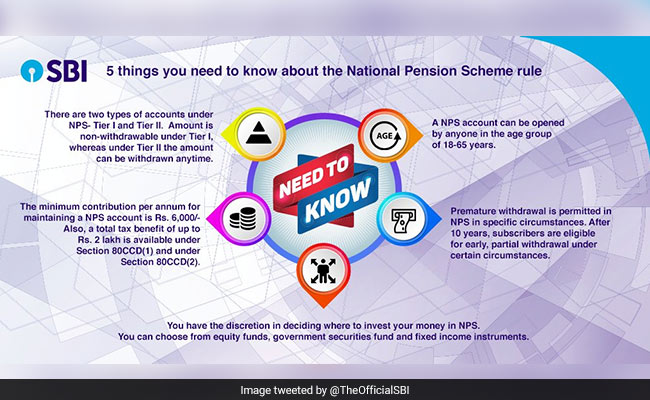 SBI, which offers a host of services under its personal banking portfolio including the National Pension System, pointed out five important things an investor needs to know about the retirement planning instrument. These are:
1.
Two types of NPS accounts
: NPS or National Pension System offers two types of accounts. While a tier 1 NPS account is strictly a pension account which doesn't allow withdrawals, money can be withdrawn from a tier 2 account anytime, according to SBI. Tier 1 NPS accounts offer tax benefits. Tier 2 NPS account - an investment account - doesn't offer any tax benefit, the corpus is withdrawable anytime, according to the SBI website - sbi.co.in.
(
Also read
:
How To Invest In Atal Pension Scheme (APY) To Earn Pension of Rs 5,000 Per Month
)
2.
Age group
: An NPS account can be opened by individuals between 18 and 65 years of age.
3.
Contribution
: An NPS account can be maintained at a minimum contribution of Rs 6,000 a year. Investment in NPS can be used to avail a tax benefit up to Rs 2 lakh in a financial year under Sections 80CCD(1) and Section 80CCD(2) of the Income Tax Act.
4.
Premature withdrawal
: NPS account permits premature withdrawal in specific circumstances. The subscriber can take the early, partial withdrawal option under these circumstances: children's higher education or marriage, and construction or purchase of house.
5.
Investor gets to choose
: Under NPS, the investor gets to decide where to put the money. That means the subscriber can decide his preferred weightage in asset classes such as equity funds and government securities.
Besides National Pension System (NPS), Pradhan Mantri Vaya Vandana Yojana (PMVVY), Public Provident Fund (PPF) and Senior Citizen Savings Scheme (SCSS) are some of the tools available today for earning a pension after retirement. Investors may look at the best suited option based on requirement, investment period and the ability to absorb volatility, say experts. (
Read more
)