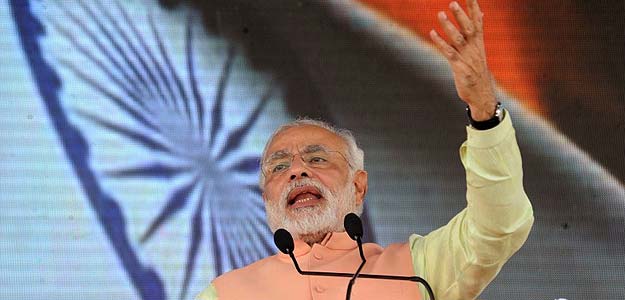 Narendra Modi is set to win an absolute majority in the 16th Lok Sabha, votes for which are being counted on Friday. The BJP is heading for a simple majority on its own as it is leading in over more than 272 seats. Mr Modi is likely to get an unfettered mandate to launch his agenda to revive growth and create jobs, analysts say.
The benchmark Sensex rose as much 6.1 per cent, hitting a record high. The partially convertible rupee rose to 58.68 per dollar, its strongest level in 11 months. The benchmark 1-year bond yield dropped 9 basis points on the day to 8.69 per cent, its lowest since February 11. (Track markets)
Mr Modi has promised to unblock stalled investments in power, road and rail projects to revive economic growth that has fallen to a decade low of below 5 per cent.
Mr Modi has promised tax and labour market reforms, backed by a gradual opening up to foreign investment and seeks to create 10 million jobs to employ young people entering the workforce.
Here's what the country's top fund managers and economists have to say about Mr Modi's phenomenal victory and the challenges he faces ahead.
Phani Sekhar, Fund Manager, Angel Broking: The market in a romantic state, it needs to tone down its expectations. The biggest worry in immediate short run will be inflation, as CPI (consumer price index) has again gone up in April and there is El Nino prediction and RBI is giving indication that it might raise rates. I do not get the rally in state-run stocks. Most of them have run up on valuations and disinvestment hopes, which is not sustainable.
Ranjit Shahani, Managing Director, Novartis India Ltd: A stable government at the centre augurs well for the economy. India has a catch-up game to play and our time starts now.
C.S. Ghosh, Chairman & Managing Director, Bandhan Financial Services, Kolkata: A stable government will help the country in development. My expectation is that the government will lead with a focus on not only economic growth but all round growth, an inclusive growth.
Venugopal Dhoot, Chairman, Videocon Industries, Mumbai: The key takeaway is it will be a stable government, which means the government will be under no pressure to not revive economic reforms, bring down the inflation and restart the infrastructure building activities, which were not happening. It's not going to happen immediately, all these things will happen gradually, but the direction will be positive and that will boost the sentiment of the foreign investors. I think we can get to 10 per cent growth during Modi's tenure.
U.R. Bhat, Managing Director, Dalton Capital Advisors, Mumbai: Immediate challenge is to just meet expectations as they run pretty sky-high for this government. The balance between centre-state government, fiscal and governance deficit, will be important issues to handle by the new government. Foreign investors are looking for new government to address the subsidy regime, infrastructure management, fiscal situation and tax issues.
Radhika Rao, Economist, DBS, Singapore: The to-do-list is long and the ball is in the incoming government's court to walk the talk on reviving growth and addressing macro challenges. The new government is bound to face challenges on several fronts soon after taking office, foremost amongst which is the fiscal consolidation agenda. If the fiscal math is fixed, the FY14/15 deficit could be higher than 4.1 per cent but might not attract negative reaction if a medium-term roadmap accompanies the fiscal document. Tackling inflation and improving the macro and regulatory environment to make it conducive for investments will also be key. On monetary policy, pressure might mount on the RBI to complement the government's pro-growth stance, but the RBI is unlikely to oblige given firm inflation.
A Prasanna, Economist, ICICI Securities Primary Dealership LTD, Mumbai: The key thing for the new government to do is to manage inflation and fiscal deficit, then everything else will fall in place. The government should focus on long-term measures to boost growth, and not short-term, and that will yield results from the second to fifth year. The kind of mandate the new government is likely to get will help them to be secure enough for five years. There is no excuse for not taking long-term measures if one comes to power with a big mandate.
Sunil Duggal, Chief Executive Officer, Dabur India, New Delhi: BJP is getting a clear mandate, so they need to be quick in fulfilling their promises to revive growth. The sentiment in corporate India is hugely positive because we are confident this government will take urgent steps to revive the economy. One of the biggest challenge is inflation and it will be interesting to see how Mr Modi brings down what has now been a nagging headache for businesses across sectors.
Navneet Munot, Chief Investment Officer, SBI Funds Management: The results look very orangey and rosy for the markets. Completely better than what markets would have anticipated. He can afford to have a smaller but stronger cabinet, that means a far more decisive government. He has been saying less government and more governance, we are really likely to see that. The speed of decision making and execution is something that will clearly be visible right away.
Pankaj Murarka, Head of Equities, Axis Asset Management: This is the best thing that could have happened for the market, we couldn't have asked for anything better than this. I think this is the beginning of a new growth cycle of India, this is the beginning of new bull market. Clearly now, the government does have quite a few challenges as they take office, but at the same time there are too many low hanging fruits in India and if you can fix those, you can get the momentum going. Fuel subsidy is the one, obviously, in terms of the easier one to fix, and likewise tax reform and insurance reform can get the ball rolling.
Nilesh Shetty, Fund Manager, Quantum Asset Management: The (market) move was expected so I'm not surprised in that sense, but I'm just slightly concerned about the way the market is headed in terms of valuations. Markets are not building up any major expectations in the short run from the government, but what they are hoping for is a roadmap in the short run to clear up a lot of problems in the economy. Even the most optimistic investors have sort of resigned to the fact that the short-run could be a bit weak for India.
Leif Eskesen, Economist, HSBC: It's important to be realistic about how quickly they can instigate change. It takes time to, number one, get economic reforms through the political machinery, and number two, it also takes a while before economic reforms actually have a positive impact on the economy. Yes, changes will most likely materialise post-elections, but I think we're still looking at a relatively slow turnaround in growth and a protracted recovery. So we're still looking at current fiscal year growth of 5.3 per cent year-on-year and then we could potentially next fiscal year, that starts in April 2015, move to around 6 per cent.
Upasna Bhardwaj, Economist, ING Vysya Bank: The early vote counting suggests a strong comeback of the BJP. We expect the immediate challenge for the government will be to prop up growth and ease inflation. Expect the government to begin with releasing the buffer food stocks to tame food inflation and also to boost growth. The stalled investment projects need to be further fast-tracked, something which the government should take up immediately by providing a one-stop window for clearances both at the centre and the state. I think RBI will continue with regular consultations with the new government to show them the importance of taming inflation, at the same time introducing other growth-enhancing measures. The budget this year will not have too many big ticket announcements, though some adjustments to the borrowing calendar is likely.
Ajay Garg, Managing Director, Equirus Capital: There is a significant sentiment change, and this will improve liquidity in the capital markets. However, this is not an easy government to take over. Growth is still not there. You have a significant inflation to take care of. Interest rates cannot be brought down the next day. Revival of the investment cycle is not that easy.
Abheek Barua, Chief Economist, HDFC Bank: I think the new government will take the infrastructure route and get projects executed. I think the Gujarat government has been excellent in this, going by all parameters, and if they can replicate that at the central level, that could do wonders. I think the RBI will have to perhaps modify its stance on core CPI (consumer price index). There are very long term structural issues in areas like healthcare, road transportation where supply bottlenecks have built up over decades and there you can not have the simple supply management. Perhaps a middle ground can be worked out where interest rates flatten out rather than go up further and inflation targeting as this extreme method of managing inflationary expectation is watered down a little.
With inputs from Reuters 2014