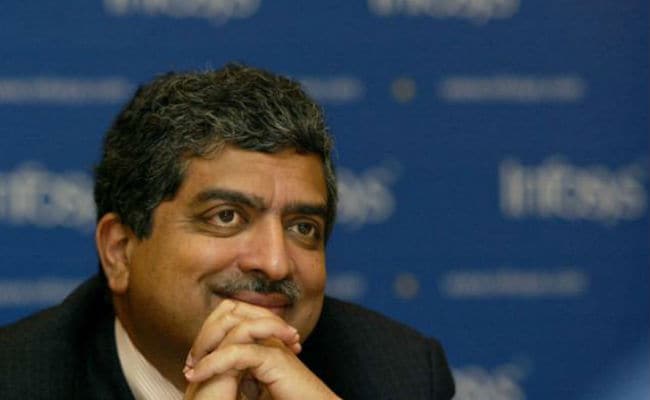 Highlights
Nandan Nilekani co-founded Infosys and was its CEO from 2002 to 2007
He will take over as non-executive chairman and non-independent director
Recently, Vishal Sikka quit as CEO amid 'continuous assault' by founders
NEW DELHI:
Nandan Nilekani
, co-founder and former CEO of
Infosys
, was on Thursday appointed as chairman of the IT services company. He will take over as non-executive chairman and non-independent director with immediate effect, Infosys said in a statement. "I am happy to return to Infosys, now in the role of non-executive chairman, and look forward to working with my colleagues on the Board and in executive management on the business opportunities we see before us and delivering benefits to our clients, shareholders, employees and communities. I thank Vishal for his service as the CEO of Infosys over the last 3 years and wish him well in his future endeavors," Mr Nilekani said on his appointment.
Infosys said chairman R Seshasayee and co-chair Ravi Venkatesan have resigned from the board. Mr Venkatesan will, however, continue as an independent director.
Welcoming Mr Nilekani, the outgoing chairman Mr Seshasayee said, "Nandan is the ideal leader for Infosys at this stage in the Company's development. His appointment will allow Infosys to focus on the strategic changes it needs to make in order to capitalize on the attractive opportunities in the years ahead."
Mr Nilekani co-founded Infosys in 1981 and was its CEO from 2002 to 2007.
Vishal Sikka, who resigned last week as CEO but was made vice-chairman till his successor was appointed, also quit the board with immediate effect, the company said in a statement after its board meeting. Jeffery S Lehman and John Etchemendy also quit as directors on the board with immediate effect, the statement added.
Mr Sikka had blamed a "continuous drumbeat of distractions" and a long-running row with founders over the tech firm's strategy. Hours after Mr Sikka announcing his resignation, Infosys said its co-founder NR Narayana Murthy's "
continuous assault
" was the primary reason Mr Sikka had quit.
Mr Murthy
and a few former Infosys executives have for months waged a public battle against the board of Infosys, accusing it of corporate governance lapses.
Disagreements between the two sides included the rise in Mr Sikka's compensation, the acquisition of Israeli automation firm Panaya for $200 million and a severance package offered to a former finance chief.
On Thursday, Infosys shares closed 2 per cent higher at Rs 912.50 on the Bombay Stock Exchange, whose benchmark Sensex index finished 28 points higher. Infosys stock rose as much as 2.7 per cent during Thursday's session.
(With inputs from Reuters)