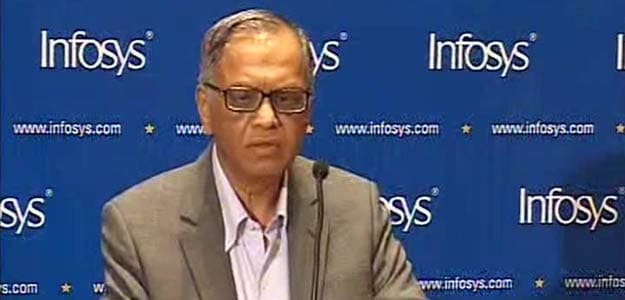 Infosys put on a good show for the second successive quarter leading some analysts to say that Infosys' glory days under co-founder Narayana Murthy are likely to be back soon. Once a bellwether of India's $110 billion IT industry, Infosys had steadily lost its appeal among investors after two years of disappointing results.
(Read: How Infosys performed in Q2)
The results were the first for a full quarter since Mr Murthy came out of retirement on June 1 to be executive chairman. Infosys saw strong sales growth after many quarters indicating that Mr Murthy's push on "bread and butter" IT outsourcing contracts over high margin consulting business is paying dividends.
This is the first time that Infosys topped $2 billion in quarterly sales indicating higher deal wins, client traction and revenue momentum. (Read: 10 reasons why analysts are betting on Infosys again)
"There's still a lot of work to be done, but they're turning around," said Bhavin Shah, CEO of Equirus Securities.
Mr Murthy, who had retired at 65 under company rules in 2011, has said Infosys took its eye off its growth target to earn a bigger share of revenue from higher-margin proprietary software and consulting. He is attempting to re-focus on large plain-vanilla IT outsourcing contracts that boost growth and have long been the industry staple.
"I'm sure Murthy is spending a lot of energy in sort of assuring clients that Infosys means business," Mr Shah added.
Several analysts said Infosys was being conservative after a series of guidance misses, and some said they expect revenue to exceed the current guidance for the full year. (Read: Why Infosys did not raise its guidance)
"Infosys is back to its days of under-promising and over-delivering," said Manik Taneja, an analyst at Emkay Global Financial Services. (Read: Should you buy Infosys shares)
Mehraboon Irani of Nirmal Bank Securities told NDTV that Infosys has turned the corner as far as the company goes.
"This will be a stock people will again look at. Investors should not resist from buying for a long term," he added.
Trip Chowdhry of Global Equity Research told NDTV that Infosys numbers are impressive at despite the slowdown in the global economy.
"Infosys has benefitted from the management shuffle, with NR Narayana Murhty returning at the top and a uptick in select areas of technology," he said.
Not surprisingly, Infosys shares did not display the extreme volatility normally associated with the stock on earnings day. The stock swung between 15-20 per cent over the previous three quarterly announcements.
Infosys closed 4.8 per cent higher at Rs 3,274, outperforming the broader BSE IT benchmark, which closed 3.12 per cent up. (Track stock)
(With inputs from Reuters)