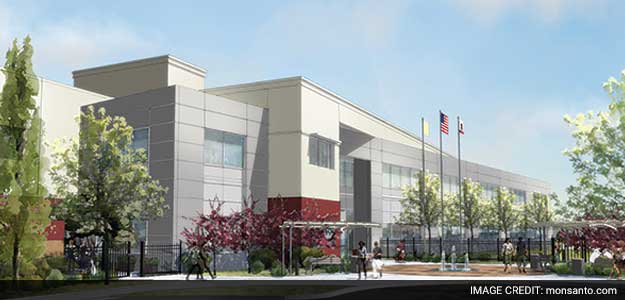 Shares of Monsanto Co rallied as much as 12 per cent on Thursday on new reports that Bayer AG and BASF SE were interested in acquiring the world's largest seed producer, highlighting the drive for further consolidation in the sector.
Both Bayer and BASF have been exploring a combination with Monsanto for several months, but valuation concerns have made a deal elusive, people familiar with the matter told Reuters on condition of anonymity.
Bloomberg News reported on Thursday that Bayer was exploring a bid for Monsanto, while financial news website Street Insider reported that BASF was also looking at a Monsanto acquisition.
Monsanto, Bayer and BASF all declined to comment.
Monsanto shares rose as high as $100.85 before easing to $98.64, up 9.2 percent, giving it a market capitalization of about $44 billion. Bayer shares were down 4.5 percent while BASF shed 1 percent.
High inventories and low prices for agricultural commodities have pressured the industry to consolidate.
ChemChina agreed in February to acquire Switzerland's Syngenta AG for $43 billion, while Dow Chemical Co and DuPont inked a deal to combine into a $130 billion company in December. Monsanto made a bid for Syngenta last year.
Monsanto has long argued it needs to buy or team up with a large crop chemicals maker as farmers increasingly look for one-stop shopping for seeds, pesticides and digital services such as satellite-guided spraying and harvesting.
Citing sources, Reuters reported in March that Monsanto had approached Bayer to express interest in its crop science unit, including a potential acquisition worth more than $30 billion.
Bayer is the second biggest player in crop chemicals, with an 18 percent market share, just behind Syngenta, which has a 19 percent share. Monsanto is a leader in seeds, with a 26 percent market share, followed by DuPont, with 21 percent.
© Thomson Reuters 2016
(This story has not been edited by NDTV staff and is auto-generated from a syndicated feed.)