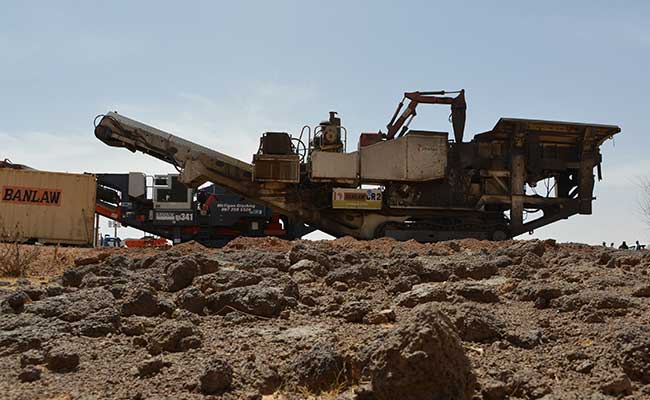 Nagpur,:
State-run MOIL is set to enhance production of manganese ore up to 2.5 million tonnes by 2020-21, a top company executive has said.
Manganese Ore India Ltd (MOIL) is the single largest producer of manganese ore in the country with an annual production of 1.1 million tonnes (MT).
It is planning to increase the number of mines in central India by 2020-24 which will help it to increase the production.
"MOIL is set to enhance production of manganese ore up to 2.5 MT 2020-21. India is producing two million tonnes of manganese ore while we are importing 10 MT from other countries, to meet the requirement," MOIL Chairman-cum -Managing Director G P Kundergi said.
A day before his superannuation Kundergi told reporters on Wednesday that the Centre is planning to increase the production which will help to reduce import.
"The company has already taken up mining development projects to sustain and enhance the production level. In this direction, two new vertical shafts have already been commissioned at Mansar and Ukwa Mines of company while deepening of the existing shafts has also been undertaken in Balaghat and Kandri Mines," Kundargi said.
He further said the company is planning to enter into the field of power generation through non-conventional sources such as wind and solar.
MOIL operates about 10 mines - six in Maharashtra and four in Madhya Pradesh. Balaghat Mine is the largest mine of the company which produces one of the best quality of manganese ore in the country and is also the deepest underground manganese mine in Asia.
On the welfare front, MOIL takes care of miners health by conducting different projects and workshops for their health.
"MOIL is planning to work with National Institute of Miners Health (NIMH) for better health of miners," Kundargi added.
He said MOIL is working for waste management along with NEERI and Engineering institution, VNIT to utilise manganese waste.
The company planted about two lakh saplings near the mines to maintain the environmental balance.
He also revealed that MOIL got exploration licence from the Centre which will help to get more information about manganese in the region.
MOIL identified few places like Jhabua, Jabalpur and Chhindwara for exploration and the work will start soon. This licence is a big achievement for MOIL because it will help to increase the production in future, Kundargi added.
To a question, Kundergi said the wind energy unit of MOIL was producing about 20 MW of power and company was selling 15 MW to Madhya Pradesh government and retaining five MW for running its own offices.
The new CMD designate Mukund Chaudhari, Director (Commercial), T K Pattnaik and Executive Director (Tech), Deepankar Shome were also present.
(This story has not been edited by NDTV staff and is auto-generated from a syndicated feed.)