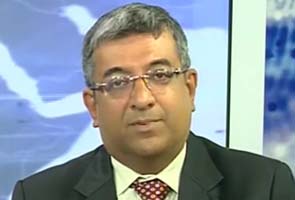 The Narendra Modi government's decision to implement a Diamond Quadrilateral project of high-speed trains to improve railway connectivity across the country has split economists.
Market analyst Hemindra Hazari told NDTV that the plan is highly capital intensive and will not generate the required employment in the economy. It will also add to the current account deficit as most components for the ambitious project will have to be imported, he added. (Watch interview)
High current account deficit led to a sharp depreciation in the rupee last year and forced the government to take a number of steps to control high value imports such as gold.
India's current account deficit narrowed sharply to 1.7 per cent of GDP in 2013-14 from a record high 4.8 per cent of GDP in 2012-13.
"We don't have an industrial base for high speed railways. An average Indian cannot afford high speed rail transport. Unlike China and Japan, we have shortage of capital so this should not be the priority of the government," said Mr Hazari.
Mr Hazari, however, said that modernizing the existing railway infrastructure will add more to GDP and employment as it has direct linkage to the domestic steel industry.
"Employment generation will be more in this case as more and more components are manufactured locally," he added.
According to Mr Hazari India's growth so far has been in capital intensive sectors rather than in labour intensive sectors. The focus has to shift to labour intensive sector, he added.
"Micro scale enterprises account for 25 per cent of industrial production, 30 per cent of exports and employ about 70 million people but they account for only 2 per cent of bank credit... Capital intensive projects add tremendously to GDP but are not employment intensive" he added.
Mr Hazari suggested the government should invest more in small scale enterprises and agriculture which generate maximum employment. This will improve the purchasing power of Indians and generate sustainable demand going forward, he added.
According to Mr Hazari, lots of measures announced by the government on Monday may not lead to significant improvement to the underlying economy.
He was also critical of the demands for amendment of the country's rigid labour laws, which many believe are impeding capital investment in the country.
"The industry has been able to reduce labour when it wanted to... Secondly contract labour has by and large replaced permanent labour. If the labour laws were really so rigid then that should not have taken place at all." said Mr Hazari."
"In the automobile sector around 50 per cent labour today is contractual," he added.