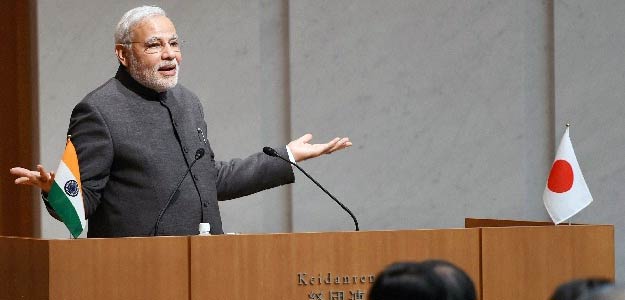 India could join an exclusive group of nine countries, whose annual gross domestic product (GDP) is above $2 trillion (Rs 120 lakh crore at 60 rupee per dollar). According to Nomura, India's nominal GDP could finally breach the $2 trillion threshold this year and reach nearly $3 trillion by fiscal year 2016-17.
India has been tantalisingly close to achieving this distinction with its GDP hovering in the $1.8 trillion to $1.9 trillion range over the last three years. But a dip in inflation and more stable exchange rate are likely to boost the GDP above the $2 trillion mark this year, Nomura estimates.
The statistical landmark is likely to come at a time when a new government led by Prime Minister Narendra Modi has won a historic mandate on the promise of higher growth and more jobs.
The projection comes days after India's April to June GDP grew at 5.7 per cent, the fastest in nine quarters. The new government, which assumed office at the end of May, has sought to take credit for faster growth during the period though analysts have attributed the rebound to the base effect (India grew at just 4.7 per cent in same quarter during 2013-14) and steps taken by the previous government to kick-start capital investments and spur consumer demand. (Read the full story here)
Over the next three quarters, the new government's efforts are likely to play an important role in pushing growth, analysts say.
Nomura, which sees 2014 as the start of a multi-year growth cycle, said last month that the first leg of the investment cycle will be driven by the government's efforts on unclogging the investment pipeline.
The new government, led by PM Modi, seems to be doing just that. Rather than announcing big bang reforms, the focus has been on smaller, but important aspects such as improving the ease of doing business, speedy clearance of projects and getting policies implemented. (Read more)
This has led many analysts to upgrade India's growth estimates for the current fiscal. Nomura's economist Sonal Varma expects India to grow faster at 6 per cent this year against earlier projection of just 5 per cent. Earlier this week, Morgan Stanley also raised its GDP estimates from 5.4 per cent to 5.7 per cent for 2014-15. (Read the full story here)
What does it signify?
The $2 trillion club will only be a statistical landmark and a psychological boost. India has a long way to go before it catches up with China, whose GDP is over $9 trillion (2013). But India will come close to its other BRICS counterparts, Brazil and Russia, whose economies are valued over $2 trillion. US is the world's biggest economy, with a nominal GDP of around $17 trillion (2013).
GDP is a measure of a country's prosperity, so higher GDP will help create jobs and lead to higher incomes. According to Nomura, nominal GDP per capita will rise from around $1,500 in FY14 to above $2,000 in FY17, with a concomitant rise in real incomes. Higher real per capita incomes would increase domestic purchasing power and boost consumption demand, the brokerage added.
The growing size of the domestic market will attract more capital inflows, as portfolio and FDI investors will likely seek to capitalise on the bigger pie, Nomura says. This will fuel gains in equity markets and also lead to infrastructure development.
India's GDP grew at 4.7 per cent last year. According to estimates, India needs to grow at 8 per cent per annum to provide jobs for over 10 million people, who join workforce every year.