Highlights
Mirae Asset's Emerging Bluechip Fund invests in mid-cap companies
Started in July, 2010, it has delivered an average return of 24.75%/year
This fund is rated five star by both Value Research and Morningstar India
Mirae Asset's Emerging Bluechip Fund, a mid-cap equity fund, has rewarded its investors handsomely. Since its inception on July 9, 2010, the fund has delivered a compound annual growth rate (CAGR) of 24.75 per cent; it means the fund has doubled investor's wealth in every 2.9 years. For example, if an investor had invested Rs. 20 lakh in 2010 July, his corpus would have turned nearly Rs. 96 lakh in just seven years and one month. Emerging Bluechip Fund, which had an asset under management of Rs 4,005 crore as of June 30, 2017, is a five-star rated fund by both Value Research and Morningstar India.

Emerging Bluechip Fund identifies and invests in mid-cap companies having a market value of at least Rs 100 crore and has the potential to become large cap/bluechip companies in the future. According to Value Research, Emerging Bluechip Fund has delivered a CAGR of 32.65 per cent in last five years, which is nearly 12 per cent more than the return of its benchmark Nifty Midcap 100 index and 8.3 per cent higher than the average return of 37 funds in this category.

Currently, one can invest in this fund through systematic investment plan (SIP) route only. Mirae Asset had temporarily suspended accepting lumpsum investment in this fund with effect from October 25, 2016. In SIP mode the fund has delivered a CAGR of 28.89 per cent since its inception. If you had invested Rs 10,000 on 1st of every month since its inception, then your total investment of Rs 8.3 lakh would have grown to Rs 22.85 lakh as on June 30, 2017.


Here are top 10 holdings of the fund: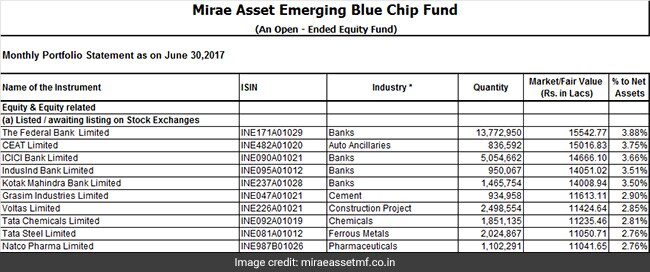 Risk: Mid-cap and small-cap funds are comparatively riskier than large-cap funds and returns can swing widely on either side.
Disclaimer: Investors are advised to make their own assessment before acting on the information.
Get Breaking news, live coverage, and Latest News from India and around the world on NDTV.com. Catch all the Live TV action on NDTV 24x7 and NDTV India. Like us on Facebook or follow us on Twitter and Instagram for latest news and live news updates.