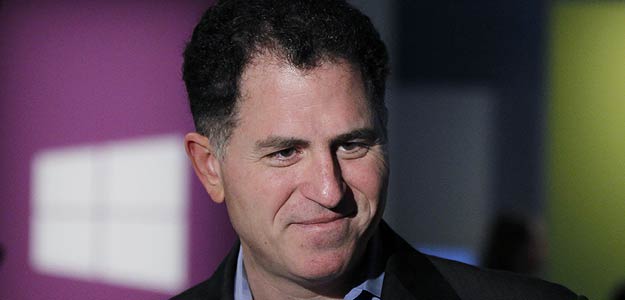 Michael Dell gave up day-to-day control of the computer company that bears his name once, an experiment that went poorly and ended relatively quickly - but he may be willing to try it again in another bid to reverse the company's fortunes.
Dell Inc is in talks with private-equity firms about possibly going private, a source familiar with the matter told Reuters, confirming a Bloomberg News report.
It was not clear how many firms might be involved, or how much of the company Michael Dell might own after a deal, relative to the 14 percent he controls now. It is also not a new idea; he told an investor conference in June 2010 he had considered it before.
But were he to pull the trigger, the billionaire's company can focus on reversing its fortunes by focusing on higher margin corporate IT and services - borrowing a page from IBM.
That's no small task for a company that built its name on bespoke computers but whose star has waned, and now wants to go up against larger rivals like Hewlett Packard and IBM.
"The company essentially has to re-make itself by de-focusing on hardware and re-focusing on software and services. This would give the company more time to effect this turn-around," said Ashok Kumar, an analyst at Maxim Group.
But "the last tech buyout of a similar scope was Freescale, which did not turn out so well."
Michael Dell started the company in 1984 out of his college dorm room with $1,000, and led it to the top of the PC industry. The TV ad slogan "Dude, you're getting a Dell" become one of the best-known catchphrases of the early 2000s.
The company's early successes made him wealthy, enough to start a firm called MSD Capital that employs 80 people in three cities investing his money in everything from stocks to real estate. Forbes ranks him among the world's 50 richest billionaires, with an estimated fortune of nearly $16 billion.
But much of his success is still tied to the company he founded, and from which he has not been able to step away.
The first time he handed over the reins was in 2004, when long-time lieutenant Kevin Rollins took over as CEO. The company was on top of its game when Rollins stepped in, but sales and customer service slipped in the ensuing three years, and there was a general sense of relief among investors when Dell reasserted control in January 2007.
"There's been no turnaround and the bottom line is Michael was the one who built the company," Needham & Co analyst Charles Wolf said at the time.
A STAR IS BORN
In the six years since Michael Dell resumed his leadership, market share has dipped even further and so has the stock.
Dell, which derives more than half its revenue from sales of plain-vanilla PCs and servers - has steadily ceded market share to HP and Lenovo, and is struggling along with the rest of the industry with declining PC demand.
Even with Monday's surge, Dell Inc shares are still down 49 percent from when he resumed leadership. (Though to be sure, HP's stock has fallen further, down 58 percent).
During that time the market changed dramatically, and Dell's once-iconic built-to-order PCs have lost favor as consumers and even businesses move toward tablets and smartphones, a market where Dell has taken tentative and unsuccessful steps.
That slide was magnified by Dell's brash confidence, which sometimes got him in trouble with peers, most famously the late Apple CEO Steve Jobs.
When Jobs returned to lead the company he started in 1997, Dell famously suggested he'd be best off shutting the company down and returning the cash to shareholders.
Nine years later, Jobs had the last laugh when Apple's market capitalization surpassed Dell's. Even with its recent slide, Apple remains more than 20 times bigger than the former PC industry darling.
Should Dell now choose to go private, much will hinge on the willingness of future partners to support his potentially costly turnaround effort.
"While there are reasons for Michael Dell to work with PE investors to take the company private, the risks of executing on its transition strategy could go up in such a scenario unless the PE investors are open to continue injecting capital to support the company's strategic goals," Mizuho Securities analyst Abhey Lamba wrote on Monday.

Copyright @ Thomson Reuters 2013