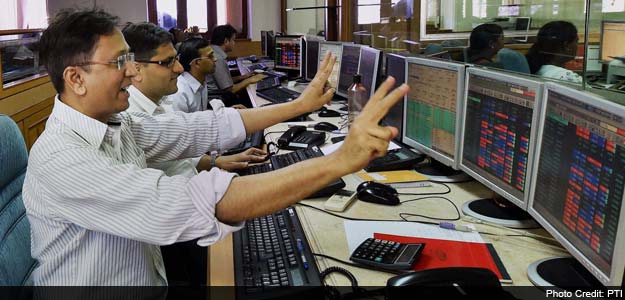 New Delhi:
Mutual fund distributors clocked a staggering income of Rs 4,729 crore in 2014-15, a surge of 84 per cent from the preceding financial year, mainly on account of sharp rally in market and robust inflows in equity schemes.
According to latest data available with Association of Mutual Funds in India (AMFI), the total income earned by top 467 MF distributors stood at Rs 4,729 crore last fiscal, much higher than revenues earned by 329 agents at Rs 2,572 crore in 2013-14.
In 2012-13, commission payout to distributors was at Rs 2,367 crore.
Experts attributed the spike in commission to rally in stock markets and robust inflows in equity mutual fund schemes.
The 30-share BSE's benchmark Sensex climbed 25 per cent in the past fiscal, which has flocked retail investors to MF equity schemes. The industry witnessed a net inflow of Rs 71,000 crore in equity schemes.
Further, equity schemes offer better commissions to distributors.
Interestingly, commissions earned by the top MF 15 distributors rose 94 per cent last fiscal.
Despite a large network of branches, public sector banks are far behind their private peers when it comes to selling MF products.
As per the latest disclosure of commission and expenses paid by various fund houses to their distributors, HDFC Bank piped Citibank to become the largest MF distributor in 2014-15 by earning an income of Rs 329 crore.
However, Citibank moved out of the top five positions and earned an income of Rs 229 crore.
HDFC Bank is followed by Axis Bank (Rs 304 crore), NJ IndiaInvest (Rs 303 crore) IIFL Wealth Management (Rs 286 crore) and Kotak Mahindra Bank (Rs 255 crore).
Other top-ten commission earners include ICICI Bank (Rs 248 crore), Citibank (Rs 229 crore), ICICI Securities (Rs 159 crore), Standard Chartered Bank (Rs 144 crore)and SPA Capital Services (Rs 142 crore).
As per AMFI data, State Bank of India (SBI), the largest lender, could manage to get a commission payment of Rs 69 crore, followed by Canara Bank (Rs 10 crore), Bank of India (Rs 6.5 crore), Union Bank of India (Rs 5 crore) and Bank of Baroda (Rs 4 crore.)
AMFI discloses commissions of those MF distributors who meet any of the four criteria -- presence in at least 20 locations or manage assets of at least Rs 100 crore, or should have received commissions worth a minimum of Rs 1 crore from all MFs collectively, or received above Rs 50 lakh from one fund house.