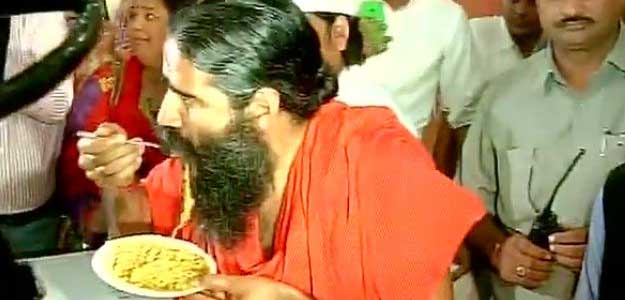 Baba Ramdev's Patanjali came in for some ridicule on social media late last year, when the company launched its branded noodles. On Twitter, many users said Patanjali stood no chance against Nestle, whose popular Maggi noodles were making a comeback after a brief ban.

While Patanjali noodles may not have set the sales chart on fire, the company has surely succeeded in proving its critics wrong. HSBC Global Research on Friday termed Patanjali's growth as "meteoric" and said the company has become India's fastest-growing consumer products brand.

"The company, which started as a small pharmacy, has expanded to sell the full range of consumer categories, from edible oils, biscuits, and noodles to toothpaste, hair and skin care products, and groceries. Back in FY12 revenue was Rs 450 crore and this is expected to reach nearly Rs 5,000 crore by the end of FY16," said HSBC.

To put things in perspective, Patanjali's revenue is equal to or larger than the domestic revenues of established listed heavyweights such as Dabur, Emami, Marico, and Godrej Consumer. Ghee is the biggest money spinner for Patanjali, contributing 30-35 per cent to its revenue, followed by healthcare (around 20 per cent), and toothpaste Dant Kanti (8 per cent).

Analysts from HSBC, who visited the company's headquarter in Haridwar, say Patanjali owes its success to two categories of products -- one, in which it is a "disruptor" because of quality and cost advantage, and second, in ayurveda-focused products, where it has "specialist" know-how.

Patanjali has managed to keep costs low because it directly sources from farmers (no middleman) and pays modest salaries to employee, analysts say.


"Administrative costs as a proportion of sales are just 2 per cent versus 10 per cent for other companies," the investment bank said.
HSBC is the second big brokerage to come out with a report on Patanjali in the last fortnight. A few days back, domestic brokerage IIFL put out a 72-page report, outlining the threat Patanjali posed to big FMCG players. IIFL expects Patanjali to gain double-digit market share in 10 categories and clock annual sales of Rs 20,000 crore by FY20.
"Patanjali has the advantage of being associated with a personality, Baba Ramdev, a yoga guru with a following of millions...combined with three other advantages of price discount versus other brands, the ayurvedic platform for most products, and a desire to consume Indian brands, makes for a winning formula," IIFL said.
Both HSBC and IIFL expect homegrown FMCG major Dabur to be most impacted by the success of Patanjali's products.