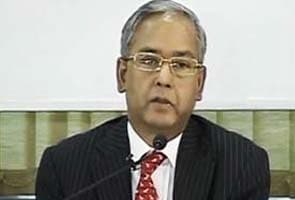 New Delhi: Securities and Exchange Board of India (Sebi) on Sunday said the action plan for proposed merger of Forward Markets Commission (FMC) with itself is under works and expressed hope that the process would be "smooth".
The Finance Ministry along with capital market watchdog Sebi and commodity market regulator FMC are in dialogue for the merger process, Sebi Chairman U K Sinha said here.
"We discussed the proposed merger of FMC with Sebi (Securities and Exchange Board of India) and the plan of action in this regard," he said after its board meeting, which was addressed by Finance Minister Arun Jaitley.
Noting that efforts are on to ensure that the "transaction will be smooth", Mr Sinha said the merger plan "is now going to be law and we are preparing ourselves".
"The (Finance) Ministry, FMC and Sebi are in dialogue. There are certain steps required, we are already working on that," Mr Sinha noted.
Announced in the Union Budget 2015-16, the merger would help in streamlining the regulations and curb wild speculations in the commodities market.
"The good thing is that the draft bill provides that different sections can be notified in different dates. So, it does not put any undue stress on us that on such and such date we must do everything," Mr Sinha said.
About the merger, Mr Jaitley said Sebi talked about capacity building at its end, both in terms of ability to acquaint with the subjects and other infrastructure requirements.
In the Budget, Mr Jaitley proposed the merger to strengthen regulation of commodity forward markets and reduce wild speculation.
Mumbai-headquartered FMC was set up in 1953 under the Forward Contracts (Regulation) Act (FCRA) as a statutory body under the aegis of Consumer Affairs Ministry. It was brought under the Finance Ministry in 2013.
In the beginning, FMC was only regulating regional commodity exchanges and its role was expanded after the emergence of national electronic trading platform in 2000.
Seeking to make FMC an autonomous body, the government had proposed amendments to FCRA in 2010 but the concerned bill could not be taken up in the Parliament.
Currently, there are four national and six regional bourses for commodity futures in the country.