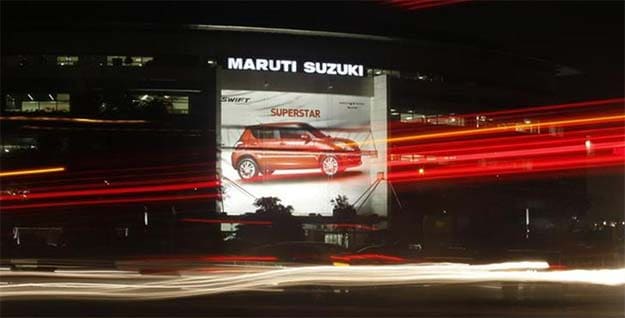 Maruti Suzuki India Ltd shares surged nearly 7 per cent to a new high of 2,603.25 after the carmaker said it sold 112,773 units in June, higher than some analyst expectations of about 100,000 units.
Sales in June have been good due to the extension of excise duty benefits despite the closure of a plant for one week for maintenance, traders said.
Jagdish Khattar, chairman & MD of Carnation Auto, said though traffic to showrooms has increased, auto sales trend should be watched for a few months before we can say that the sector is recovering. Car sales in India saw two consecutive years of decline as buyers were put off by high inflation and interest rates and slow growth in Asia's third-biggest economy.
Mr Khattar said there is a possibility that since the original excise cut was valid till June 30, some buyers and dealers could have advanced their purchases. Finance Minister Arun Jaitley had on June 25 announced extension of excise duty cuts till December.
Country's largest car-maker Maruti Suzuki India (MSI) today reported a 33.5 per cent increase in its total sales for June at 1,12,773 units as against 84,455 units in the same month last year.
The company said its domestic sales rose by 31.1 per cent during the month to 1,00,964 units as against 77,002 units in June 2013.
Sales of mini segment cars, including M800, Alto, A-Star and WagonR, rose by 52.1 per cent to 47,618 units as compared to 31,314 units in the year-ago month, MSI said in a statement.
The company said sales of the compact segment comprising Swift, Estilo, Ritz rose by 6.2 per cent to 22,293 units in June this year as against 20,996 units in the same month a year ago.