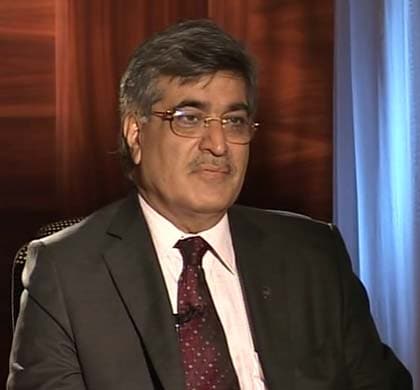 Highlights
In an exclusive interview to NDTV Profit's Vijay Iyer, D.K. Mehrotra, chairman, Life Insurance Corporation of India (LIC) talks about LIC's targets for investments in the equity market this coming year and what sectors are looking attractive to the insura
Washington:
Maruti Suzuki chairman R C Bhargava is addressing a press conference in connection with Wednesday's violence at the company's Manesar plant that left a senior human resources manager, Awanish Kumar Dev, dead in a fire. Over 90 employees were injured, and four are still in intensive care.
Here are the highlights from the press conference. Watch the video here.
Never thought a day like this would come.

Workers have right to arrears, that's what negotiations were about. But not at stage that could have led to this kind of incident.

Communication channels still open.

Have been in regular touch with union.

Mr Siddiqui was at my house in Noida, when he left at 6 p.m. we had absolutely no inkling that something like this would have happened.

What has happened is an absolute shocker to us.


We cannot risk any further risk to our employees, including workers, we cannot endanger our people any further.


For that reasons, we are not in a position to start production at the factory.


We have to make sure that something like this never happens again.


Even if workers want to go back, we cannot risk reopening the factory now.


Workers are willing, we like the spirit, but we cannot risk it.


Safety of colleagues more important than making some cars, making some money.


There is no question of moving out of Manesar. This thought of us moving out of here is complete fiction. Don't throw the baby out with the bathwater.


There will be pressure from chief minister on authorities to move quickly on this matter. It impacts the whole matter of investment in Haryana.


Maruti is the flagbearer of investment in Haryana. Investors will say 'If Maruti cannot function, how can we function?'.


Gurgaon plant is running at full capacity already.


Why is the media enamoured of 'daily losses'? Please have consideration for human life. If a manager has been injured, how do you measure that in daily losses?


We are primarily not a profit-making company, if we care for our people profits will come. Profts will come short term but if we don't take care of our people, profits won't come in the long term. Japanese have taught us to think long-term.


There is no possibility of importing vehicles from anywhere.


Nobody is denying that the supervisor was manhandled. Worker was suspended because he was alleged to have manhandled the supervisor. He has said it was in response to some remarks.


The suspension of the worker has been kept under suspension.


To our knowledge, no worker has been hospitalised.


Today, there is no outstanding demands from workers, except the wage negotiations. In such a situation, how do you anticipate this kind of event.

No compensation decided yet for Awanish's family.

Please tell everyone that shifting of Maruti plant is complete fiction.

Our policy is that we do not compromise with violence. Has to be decided on the merits of the case, so we can't say anything about dismissal.



There are no workers who have been suspended yet. At the moment, we will said we have a lockout.

If they are a cause of the trouble, they cannot come back. An inquiry will establish that, I can't establish that.

We will request Haryana government to expedite their inquiry, we will also conduct our own inquiry.

At Gurgaon, workers realised that politicking ultimately does not pay. It's been 11 years now, and productivity if fine. This is in the same area, with the same people.

Haryana government is doing all it can do, I don't know what else they can do. As far as our matter is concerned, they are doing everything they can.

Workers in Gurgaon have worked for 29 years with 7.5 minute break for tea. This has never been an issue, no one has said this is something that needs to be changed.

The practice of casual workers will be ended after March 2013. No casual workers will be involved in any value-added work.

MD and CEO Shinzo Nakanishi says this is the first time he has seen this kind of violence and criminal case.

End of press conference.