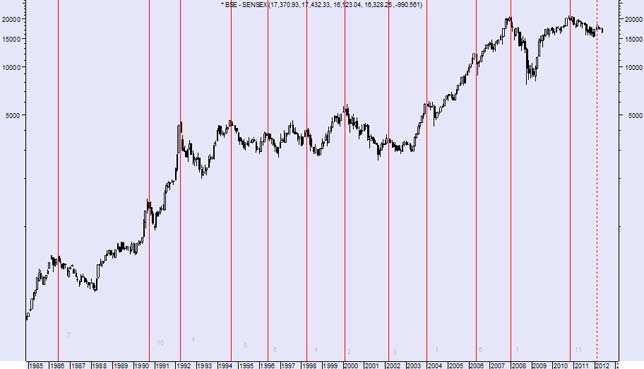 Highlights
As far as India's equity market is concerned, he said that the Sensex may bottom-out at the 12,000-16,000 level. "Rupee seems to be oversold in the near term. If the rupee depreciates by 10-20 per cent in the near term, it will also help the market," he a
New Delhi:
Indian equities have joined a global selloff, with the Sensex and Nifty falling nearly 2 per cent Wednesday. The rupee hit a 5-month low in early trade, though there was some recovery after the Reserve Bank's intervention.

Analysts have not ruled out further downsides in the markets. In an interview with NDTV Profit, Gaurang Shah of Geojit BNP Paribas says investors could start cherry picking in select stocks.

Edited excerpts

Market outlook: Further downsides of 5-10 per cent cannot be ruled out. However, risk rewards are favourable from an eight to 16-month perspective. There is a lot of negativity and pessimism in markets and further concerns around the rupee cannot be ruled out. However, investors can deploy 25-30 per cent of their capital at these levels.
Rupee may slide to 55-56 levels: The depreciation in rupee is bad news for FIIs especially because equity markets in US and Europe have made new lows for 2012. In spite of a number of attempts by RBI, the fall in rupee continues. The dollar demand may go up further in case the US economy recovers in the second half of 2012. That will create further pressure on rupee. The correction in crude oil prices will be negated if the fall in rupee continues.

Stock picks:

Tata Steel: Buy with a target of 500-530

Private Banks: Buy Yes Bank, Axis Bank. They have seen significant correction.


Realty: Buy Sobha Developers, Oberoi Realty and Godrej Properties
Cement: Buy ACC, Ultratech and Shree Cement
IT: Positive on Wipro and Infosys after correction.
Avoid aviation stocks
SBI: Q4 numbers could be negative. The stock may continue to underperform.
Tata Motors: Start accumulating the stock for a target of 360.