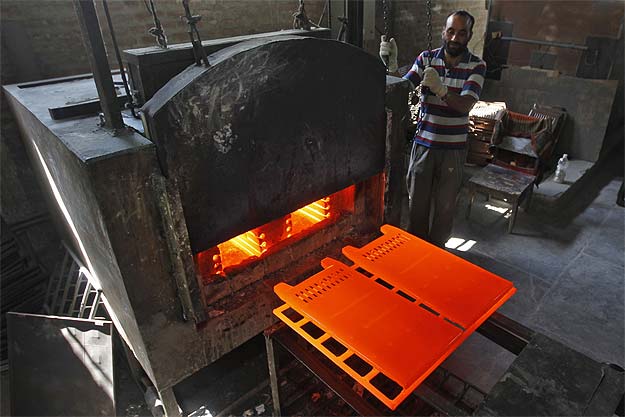 Bangalore:
India's manufacturing growth inched up in October from September's 10-month low, supported by a pick-up in new orders and an easing of price pressures, a survey released on Thursday showed.
The HSBC manufacturing purchasing managers' index (PMI), which gauges the business activity of India's factories but not its utilities, nudged up to 52.9 in October from 52.8 in September.
The index has remained above 50, which divides growth and contraction, for over three and a half years.
"Economic activity in the manufacturing sector picked up slightly thanks to firm new orders," said Leif Eskesen, an economist at HSBC, which sponsors the survey. "Looking ahead, the recovery in manufacturing growth is likely to be slow."
The new orders sub-index, an indicator of future output, edged up to 54.9 last month from 54.4 in September, while export orders grew for the second straight month, albeit at a slightly slower pace.
Data released last month showed manufacturing rose 2.9 per cent in August from a year earlier after contracting 0.4 per cent in the previous month. Overall output at factories, mines and utilities rose an annual 2.7 per cent.
Price pressures ease
Input and output price indices fell to their lowest levels in more than two years. But Eskesen said this did not necessarily indicate India's inflation, which rose to a 10-month high of 7.8 per cent in September, would cool anytime soon.
Instead, Eskesen said inflation would remain elevated for a while yet, reflecting a Reuters poll which suggested prices will peak in the last three months of 2012 before slowing.
The central bank has maintained that high price pressures keep it from cutting interest rates in the face of slowing economic growth.
The Reserve Bank of India has held interest rates steady since April even as many other central banks cut rates.
It left rates on hold again on Tuesday but cut the cash reserve ratio for banks, which is expected to inject
Rs 17,500 crore into the banking system.
Unusually, governor D. Subbarao gave fairly explicit policy guidance, saying the central bank might ease policy in January to March, the final quarter of the fiscal year, when it expects inflation to ease.
The central bank is under pressure from the government and industry to cut rates to try to help revive economic growth, which has slipped to its weakest pace in almost three years.
Copyright: Thomson Reuters 2012