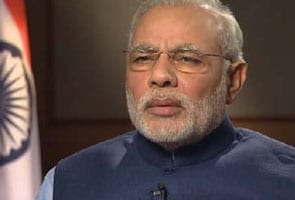 New Delhi: Hailing Prime Minister Narendra Modi's 'Make in India' campaign and the emphasis on ease of doing business, India Inc has said the initiative mirrors the country's ambition to sprint ahead in the global manufacturing race, thereby creating jobs and boosting economic growth.

"The Make in India campaign promises to fast-track India's growth trajectory by making it a manufacturing hub. Made in India, made by India but made for the world - with the vision of empowering Indians by creating job opportunities, the campaign is the PM's ingenious formula to position India as the centrepiece of Asia's next growth story."

"With the promise of effective and easy governance, enabled by IT, this campaign will be a game changer to facilitate true convergence of innovative ideas - both from within India and from overseas," Assocham president Rana Kapoor said.

Launching his government's ambitious project to make India a manufacturing hub, Prime Minister Narendra Modi on Thursday promised effective and easy governance to help achieve high growth and creation of jobs.

(Read: PM Modi's Make-in-India pitch: 10 key takeaways)

Confederation of Indian Industry (CII) president Ajay Shriram said an initiative to ease procedures and attracting investments into the sector had been made at the right time.


"It is the only way to generate employment for the large pool of young people joining the labour force every year. As mentioned by the Prime Minister, the purchasing power of the people can be enhanced and demand created only if they have employment opportunities," Mr Shriram said.
"It will take some time but I think it (Make in India campaign) will get manufacturing on the centrestage and I think in due course it is going to help. We have to look at labour laws, land acquisition, we have to look at the regulations and infrastructure because today infrastructure is impeding the competitiveness," he added.
"If you want manufacturing to take place, and the government has shown its commitment, you must also do other 20 things and I think that commitment will follow. I think it is already in progress and over the next 6 months we will see the results coming out," Ficci president Sidharth Birla told PTI.
"On one hand, the import regime has become very facilitative with substantial lowering of customs duty, abolishing of importing licences and free availability of foreign exchange. On the other hand, manufacturing continues to suffer from infrastructure bottlenecks, environmental clearances and an unfriendly tax regime - both direct and indirect, which manifests itself as anti-manufacturing and therefore not providing a level-playing field for manufacturing in India vis a vis imports," PricewaterhouseCoopers (PwC) India executive director Vivek Mehra said.