New Delhi:
The first Indian all-electric car came years ago from the Reva Electric Car Company. The company is now part of the Mahindra group post a 2010 acquisition, and is now ready with its second mass electric model. What started as the NXR concept is now the Mahindra e2o.
The company today launched the car at a starting price of Rs 5.96 lakh.
It's comparable in size to something like a Maruti Suzuki Zen Estilo, and is in fact being pitched as a B segment car. The only difference is that it will never need a tank up, since it doesn't use fossil fuels at all.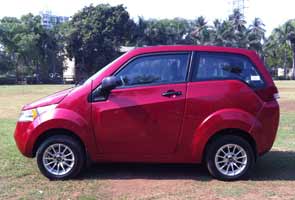 Like all electric cars the world over, this one too uses a battery pack that requires charging from an external power source. So you need to plug in its charging cable to an electric wall socket and a full charge can take you up to 100 km - though this will vary depending on your driving style and traffic conditions, plus the use of onboard electronics like the air conditioning. A full charge from empty required about five hours, though a one-hour quick charge will give you about 25 per cent battery power, which will ideally carry you about as many kilometres away.
The car's top speed is in the 80 kmph range. Its acceleration is steady, and it has an automatic gearbox, with a Boost feature that provides extra power when needed for quick overtaking, for instance. It also has a reverse camera and a touchscreen infotainment system with Bluetooth and USB connectivity.
The e2o is future proof in that sense, though it's limitations are primarily its driving range and the infrastructure to allow charging within the range. Most Indian homes and offices don't have the provision of a power outlet in the parking areas, and so a special outlet will need to be set up in most cases. For its part, Mahindra has set up a network of charging stations in the eight cities the car is being launched, though Mahindra-Reva's home city of Bangalore as well as cities like Delhi and Mumbai have the maximum number. The car's top-end model also features a GPS-enabled navigation system that also points out changing stations nearby. In fact, the car's on board computer will constantly tell you your driving range and also has an SOS feature that gives you additional 7-8 kms if your battery power dips below 10 per cent. This can be activated by the touch of a button, which alerts the company headquarters.
Each car comes with an inbuilt GSM activated chip that allows the company to keep tabs on the performance and condition of each individual car. This also allows troubleshooting and any software related upgrades to be carried out remotely, without the car needing to be brought in to a workshop.
While all this sounds great, what about the prices? Mahindra, as well as the auto industry at large, had expected the Union Budget this year to offer incentives for electric and hybrid vehicles. A lower taxation structure than conventional cars. That incentive didn't come, and so the car has been priced at Rs 5.96 lakh on-road New Delhi, though the state government has waived off around 29.5 per cent in taxes -- 12.5 per cent in subsidies, 12.5 per cent VAT, and 2 per cent road tax. So the on-road price is after these deductions.
The Karnataka government, too, has reduced VAT to 5 per cent from 14 per cent for the car, while the Maharashtra government has decided not to impose road tax on the vehicle.
At this price segment, the e2o is comparable with the top end B segment cars, and Mahindra claims a saving of upto Rs 85,000 per year on fuel costs - when compared to a similar sized petrol driven car.
Mahindra still expects to sell as many as 400-500 units per month.