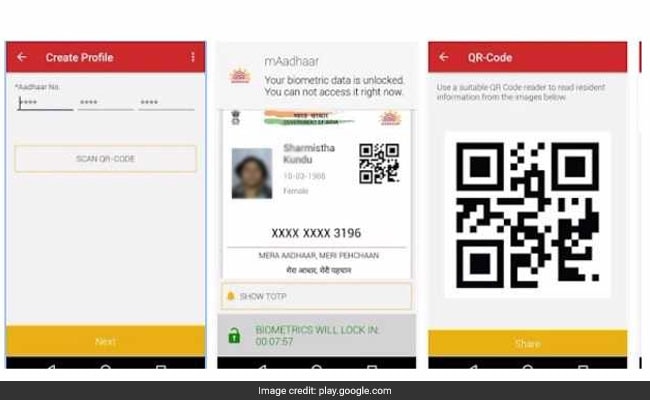 Aadhaar card can be carried in digital form via mobile app mAadhaar. mAadhaar, or mobile Aadhaar, enables users to carry and produce Aadhaar card in digital form. This digital Aadhaar card, via mobile app mAadhaar, is now accepted as valid ID proof for entering an airport as well as travelling via Indian Railways. A user can produce mobile Aadhaar or digital Aadhaar via mAadhaar by opening the app and entering his or her password to show the Aadhaar card on the smartphone. This can be done only on the mobile number to which Aadhaar has been linked, according to the UIDAI or Unique Identification Authority of India, the issuer of Aadhaar card as well as the 12-digit Unique Identity Number (UID).
Five things to know about mAadhaar app:

Users of this mAadhaar app will have all the demographic details of Aadhaar card in their smartphones. Information like name, date of birth, gender and address along with the user's photograph (that is linked with Aadhaar card) will be available in the app.

The app is currently available for Android users only. "LAUNCHING #mAadhaar- Carry your Aadhaar on your Mobile. The android app from UIDAI is now available on Google Play," the UIDAI said on microblogging site Twitter.

The app comes with a biometric lock/unlock feature to secure the personal data.


To use the "mAadhaar" app, a registered mobile number is a must. In case your mobile number is not registered, visit the nearest Aadhaar Enrolment Centre or Mobile Update End Point. A QR code facility and password protected eKYC data are among additional features provided in the app.
It also has a "TOTP generation" (Time-Based One-Time Password) process which can be used instead of SMS-based OTP.
How to use mAadhaar

The first time a user opens mAadhaar on his or her phone after installing it, the app asks for a password. This password is used for security later. The user is required to enter a password of 8-12 characters, containing at least 1 digit, 1 alphabet, 1 special character and 1 alphabet in capital letter (for example - Ajay@1230).

The Aadhaar profile on mAadhaar can be downloaded only on the mobile number linked with Aadhaar.

mAadhaar automatically reads the OTP once it is received on your mobile device.


mAadhaar needs to connect and download data from UIDAI. So ensure that internet connectivity is available on your phone.
One Aadhaar profile can be active on only one device at a time. If you create profile on another device by inserting the SIM in another device, the previous profile would become inactive and would be deleted from older device whenever any operation is attempted from that device.
If any other member of your family has the same mobile number registered with their Aadhaar, his or her profile can also be loaded on the same device, according to the UIDAI.
A user can add a maximum of three profiles on the device, all having same mobile number registered in their Aadhaar.
Biometric locking/unlocking: This feature enables a user to secure his or her biometric authentication by locking biometrics data.