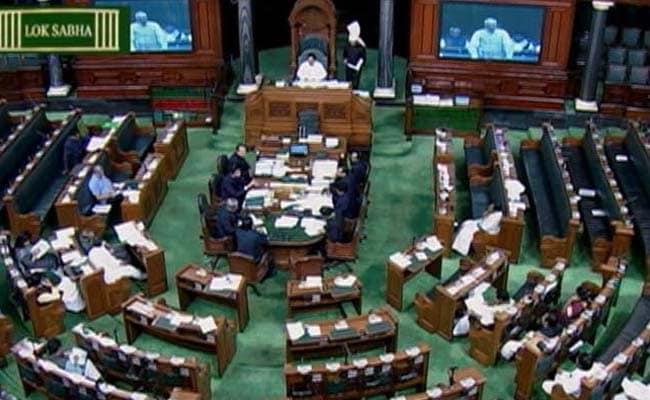 New Delhi:
Amid din, a bill which seeks to tax money deposited in banks post demonetisation was passed in the Lok Sabha on Tuesday within minutes without any debate.
Amid fierce slogan shouting by the opposition, Finance Minister Arun Jaitley said the Taxation Laws (2nd Amendment) Bill, 2016 was brought after it came to the government's notice that some people were trying to illegally exchange the demonetised Rs 1,000 and Rs 500 currency notes.
He said as per the amendment proposed, those caught illegally converting money will have to cough up 60 per cent tax plus penalties, which will come to 85 per cent.
Those who disclose black money to banks will have to pay 50 per cent tax, including surcharge and penalty. While they will get back 25 per cent immediately, the rest 25 per cent will be returned after 4 years.
"It will give means to the Government of India to run schemes like Garib Kalyan Kosh... I urge the House to accept the amendments," he said.
Speaker Sumitra Mahajan said since the bill is of urgent public importance, it has to be passed immediately. Though she wanted a debate, she said "it is impossible" because of the behaviour of the opposition members.
She also disallowed some amendments moved by opposition members as they required approval of the President which could not be obtained.
Two amendments by N K Premchandran (RSP) and B Mahtab (BJD) were allowed. While Premchandran refused to move the amendment as he was shouting slogans, Mahtab's was negated by a voice vote.
The Bill was later passed by a voice vote amid din.
Earlier, several opposition members said the bill could not be discussed before the debate on demonetisation as the measure was a follow up of the note ban decision.
Congress leader in the Lok Sabha Mallikarjun Kharge and TMC's Sudip Bandhopadhyay said the two -- Adjournment Motion on demonetisation and the Income Tax Amendment Bill can be discussed together as the issues were similar.
Saugat Roy (TMC) said since Jaitley on Monday introduced the Bill "surreptiously" and "stealthily" amid din, the opposition did not get a chance to oppose its introduction as per rules.
B Mahtab said discussion on demonetisation was also necessary along with a debate on the bill as it had serious repercussions on the Income Tax laws. He said a way should be found.
When opposition members questioned bringing the bill for consideration and passage today at a short notice, Jaitley and Information and Broadcasting Minister M Venkaiah Naidu said they were casting aspersions on the Chair.
Soon members rushed to the Well and kept shouting slogans till the bill was passed. Soon the House was adjourned for the day.
(This story has not been edited by NDTV staff and is auto-generated from a syndicated feed.)