Quoting of Aadhaar or UID (Unique Identitification Number), the 12-digit identification number issued by the UIDAI, has already become compulsory for most important tasks. These include operation of a bank account, investment in small-savings scheme and, now, for a mobile connection as well. Aadhaar is meant to be linked with mobile SIMs (subscriber identification modules) by February 6, 2018. Telecom operators have been directed to complete re-verification of their customers through an e-KYC process, requiring customers to produce Aadhaar card, by February 6, 2018, according to the Department of Telecom (DoT). Telecom companies, have, in the past months urged their customers to complete Aadhaar re-verification.

You can link your Aadhaar - the identification authenticated by your biometric details (fingerprint and iris scan) - with the mobile connection you are using by walking into a customer service centre operated by your telecom service provider. Telecom companies, including Bharti Airtel and Vodafone, have urged their customers promptly in the recent past to complete the Aadhaar e-KYC process.

Meanwhile, the Supreme Court has announced that its constitution bench will start hearing a clutch of petitions that have challenged the Centre's move to make Aadhaar card mandatory for availing various services and benefits of government welfare schemes from the last week of November.

Linking Aadhar (UIDAI) with mobile SIM is a cakewalk.Here is how you can do this:
Airtel Aadhaar-SIM linking

"Link your Aadhaar to your mobile number to stay active!" Bharti Airtel, India's largest telecom company, said on its website - airtel.in. "As per the recent government directive, all the existing customers have to link Aadhaar with their mobile numbers. We recommend you to visit the nearest Airtel Store/Retailer with your Aadhaar number and complete this process," Airtel said. The telecom company clarified that biometric verification is required separately for each mobile number.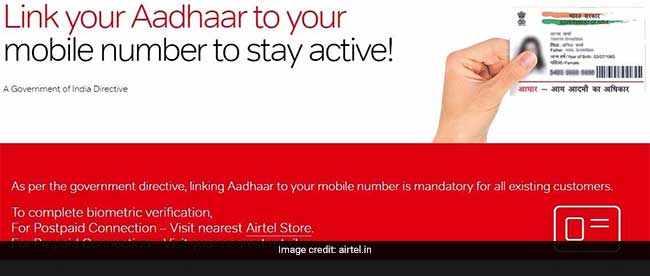 Vodafone Aadhaar-SIM linking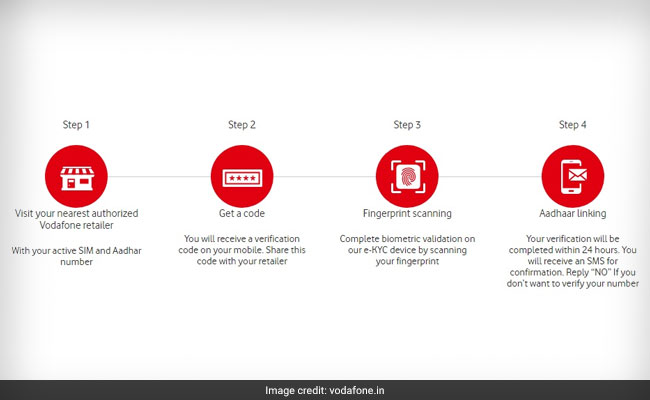 Explaining how a customer can link his Aadhaar with mobile SIM, Vodafone gave the following steps:

Visit your nearest authorized Vodafone retailer with your active SIM and Aadhar number
You will receive a verification code on your mobile. Share this code with your retailer
Complete biometric validation on our e-KYC device by scanning your fingerprint
Your verification will be completed within 24 hours
You will receive an SMS for confirmation
Reply "NO" If you don't want to verify your number

Idea Cellular Aadhaar-SIM linking
Idea Cellular has released a set of steps for its customers to ensure e-KYC compliance with the Aadhaar directive. "As per the recent government directive, all the existing customers have to link Aadhaar with their Mobile numbers," Idea Cellular said on its website - ideacellular.com.


The Department of Telecom (DoT) has issued instructions to all operators to verify "all existing mobile subscribers (prepaid and postpaid) through Aadhaar based E-KYC process on or before 06.02.2018", Idea noted.
The Idea Cellular has requested its subscribers (excluding the subscribers who have opted their mobile connection via E-KYC mode-Aadhaar based activation by providing biometric) to visit the Idea outlets located nearby and follow some simple steps in order to complete the mandated E-KYC process:
Visit your nearest Idea centre and provide your mobile number and Aadhaar (UIDAI) number.
Idea store executive will provide you with a four-digit verification code on your mobile number from re-verification application.
The subscriber will provide the verification code to Idea store executive and provide his/her biometric.
After 24 hours, you will receive a confirmation SMS. Reply 'Y' to complete the e-KYC process.
Please note that this entire exercise is free of cost and for your convenience, hence we solicit your co-operation.
The government has simplified the process to link the UID or Aadhaar number with mobile number. The Department of Telecom (DoT) has introduced a new OTP- or One Time Password-based option to link Aadhaar with mobile connection. The telecom department has introduced three new methods to link the registered mobile number with Aadhaar: an OTP- or One Time Password-based method, an app-based method and an IVRS facility. Telecom operators have welcomed the move and said they would implement the new e-KYC re-verification modes soon.
Get Breaking news, live coverage, and Latest News from India and around the world on NDTV.com. Catch all the Live TV action on NDTV 24x7 and NDTV India. Like us on Facebook or follow us on Twitter and Instagram for latest news and live news updates.